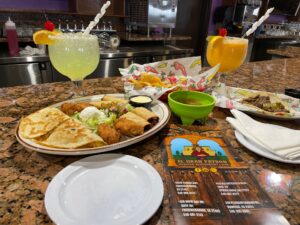 When rumors of a new restaurant coming to the down lake region of Lake Anna began over the summer many bets were placed on what kind of food would be served. When news leaked that a new Mexican restaurant was coming to Pleasants Landing, residents were thrilled – as there are no restaurants on the lower end of the lake. Fast forward to the second week of October when the wait was over, and, after two months of preparation, El Gran Patron opened and has operated seven days a week since.
   Rogelio Sosa Hernandez is the owner of El Gran Patron, one of four restaurants he operates; one in Fredericksburg, one in Spotsylvania and one in the White Oak area and all named El Patron (in English: the boss) with the help of his able staff.
 The 41-year-old restauranteur that now lives in Fredericksburg knew from a young age he wanted to open a restaurant featuring the Mexican dishes his parents and grandmother taught him to cook.
  "My parents and grandmother taught me to cook authentically and mealtimes were an important part of our family," Rogelio told Life & Times.
   As with all of his restaurants, Rojelio's goal for El Gran Patron is the same: "to introduce authentic dishes from the south of Mexico and to be able to provide a place where people can have a good meal while also enjoying a good atmosphere."
   He told L&T he chose Lake Anna because he wanted to be part of a community that is growing and to be able to provide to this community an option for a full-service restaurant with good food.
  El Patron seats over 100 patrons inside and another 50 on the spacious deck that overlooks the lake and offers an incredible view on many days of the Blue Ridge Mountains some 70+ miles away. The is also bar seating for about a dozen.
   Cooking for Rogelio is a way to show love and respect to his mentors and ancestral culture. His favorite dish to prepare is a complex offering known as Molcajete or "mortar and pestle" in English that he learned to prepare as a boy.
   The name itself comes from the Aztec words meaning "seasoning" and "bowl." However, traditional molcajetes are slightly different than your average mortar and pestle. These tools are made out of volcanic rock. Their hard, rough surface makes blending and mixing easier and also ensures you get the strongest flavors out of spices.   
   Rogelio notes this ancient cooking tool gives these dishes their best flavor by making them the traditional way. A molcajete can still be found in many Mexican households. It has been used to cook recipes passed down through the generations. Many people believe that salsa, guacamole and other traditional Mexican foods taste better when prepared using this tool.
  The restaurant owner notes he learned much living on a farm as a boy.
    "My whole family was raised on a farm where we had to learn how to make a living out of raising animals and growing fresh produce. This is also where my knowledge of business came from; out of everything I learned from this lifestyle I became inspired to put all these skills and knowledge into the restaurant business."
  So what makes El Patron restaurants different from other Mexican eateries?
  "The El Patron way is dedicated to making dishes from south of Mexico unlike many others that base their food off the north side, We also base our menu on home cooking with recipes that are exclusively family owned," Rogelio told L&T.
   He said the community has welcomed his restaurant with open arms. On an average weekend El Gran Patron staff prepares around 500 plates.
  "We are super pleased with the community. They have shown us so much support and we would have to say it is one of the most united communities we have had the pleasure to be part of."