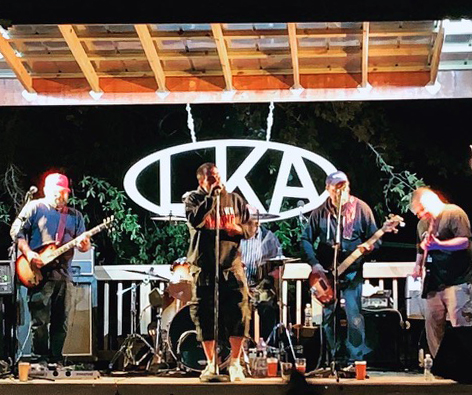 Every lake has them. You'll find the watersports crowd in one area, the boaters in another, the millenials in yet another and the anglers in others. There's even hotspots for foodies and beer aficionados.
Some spots that draw Lake Anna visitors and residents have a pet name like The Sandbar, Cocktail Cove, The Bahamas, Pirate's Cove, Ware Hill and The Sanctuary. You won't find these on a map. No, instead, you have to be shown where they are or have someone mark your map.
This article shares some of Lake Anna's less secretive hotspots and the reason for their popularity. Keep in mind, when you become a user you become a steward of these places. Dedicated LKAers don't tolerate misuse of the lake and accept the mantle of responsibility that comes with the enjoyment of its special places.
Hotspot #1 – On The Boat
  As the song says, life is better on a pontoon or any ol' boat! Rent one, buy one or beg passage on a friend's and tour the lake with your cooler filled and ready for fun. Dock watch, boat in to a restaurant or drop anchor in a secluded cove or off an island and make yourself comfortable. This is living the lake life! You'll never lack companionship if you have a 'toon. Rentals can be found at Duke's Creek Marina, Shipwreck Boat Rentals, Mid-Atlantic Watersports, LKA Watersports and Sturgeon Creek Marina. Get the the Pontoon Patrol sticker  or shirt from LKA Outfitters and be official!
Hot Spot #2 –

Moo Thru At The Boardwalk

 

 
   Who doesn't like ice cream or watching kids/guests enjoy eating it? Moo Thru is the lakeside option for homemade ice cream straight from an area dairy farm. There's hand-dipped cones, milkshakes and sundaes to savor as you watch the boats parading by the North Anna River branch of the lake.
Hotspot #3 – Lake Anna Taphouse
    Visitors to the lake will want to visit this waterfront beer garden and enjoy 30+ beers and ciders, pub grub menu, indoor, deck and lawn seating, plus flat screens inside for fall football watching. With the location within a few steps of the lake, there's a great "backyard" for folks to enjoy a brew al fresco, plus cornhole and firepits. Fifty+ boat wet slips are available so customers can drive right up. Beverages can be enjoyed inside and out, and most people will want to enjoy the beverage on the deck or out on the lawn.
Hotspot #4 – Coyote Hole Ciderworks
   Deliciously refreshing cider, a four-season venue set in the woods just off Rt. 208, food trucks, live music and a central lake location make this hotspot a popular lake destination. Choose from cider, seltzers or sangrias, kick back and get On Lake Time!
Hotspot #5 – The Lounge At Vito's
   Party one story up with a view across the lake that is unequalled. Enjoy all your favorite mixed drinks, beer, cider, wine and speciality house drinks along with table service, cigars and live music perfomances in season. It's Vegas style after hours at Lake Anna!
Hotspot #6 – Lake Anna Outfitters
    This little shop at High Point Marina is full of everything Lake Anna. Trucker caps, tees, hoodies, drinkware, decorative items, stickers, hammocks; darn near anything you'd want for a gift or cool apparel for your next dock party is inside, plus they rent and sell kayaks, paddleboards and canoes for the ultimate lake party arrival vehicle!
Hotspot #7 – Cocktail Cove
    The first rule of Cocktail Cove is not to talk about the location! It's a "secret" cove off the main lake in the clear, clean mid lake region where locals and visitors enjoy the aquatic side of Lake Anna life. Beach your rig on the sand bar between the shore and an island and set up your boat picnic. Leave no trace enjoy what the day brings.
Hotspot #8 – Callie Opie's Orchard Restaurant & Event Park
   One of Lake Anna's top restaurants, Callie Opie's features a full time chef, amazing cocktails and a venue that wows visitors. A post and beam interior dining area leads to a beautiful patio out back complete with firepit. Meals are plated impecably and each bite offers multiple taste sensations. There's that awesome patio, beautiful event barn and performance venue, too. New for 2022 is a walking trail and Harvest Host option.
Hotspot #9 – The Sandbar
   A perennial hotspot, The Sandbar is a 150-yard long spit of soft sand located just underwater at the mouth of Gold Mine Creek up the North Anna River arm of the lake. When the water levels are normal, much of The Sandbar is under about two feet of water. On most summer weekends you'll find dozens of boats with their captains and crew enjoying various water-related activities. One of the most popular is people watching, however water volleyball and "power-lifting" vie for second place. This crowd trends younger and bit wilder!
Hotspot #10 – Lake Anna Winery
   No matter if you are there for a wine tasting, special event or holding your own event at this amazing venue, Lake Anna Winery is a Lake Anna hotspot not to be missed when visiting. Locals and visitors alike flock to this family-run vineyard on Rt. 208 (Courthouse Rd.) about five miles from the 208 bridge. The Heidig brothers and their staff will make you feel like a local if you are a visitor. Award-winning red, blush and white wines are available for tasting and purchase. Check our Calendar of Events for some great parties at Lake Anna Winery this season including the July 1st Country Americana Festival, the Cajun Zydeco Festival and the annual Beach Party.
Hotspot #11 – The Cove At Lake Anna
   Located on Rt. 719 at Dillard's Bridge on the Pamunkey Branch of the lake you'll find a marina, convenience store, restaurant and bar that focuses on good times. The Cove offers indoor and outdoor dining (sunset views) and bars with plenty of dockage for amphibious landings. The outside bar is perfect, even on hot days, with cooling misters and plenty of cold Mermaid Juice served promptly. Start with the Cannonball appetizer and try to eat Blackbeard's Platter!
Hotspot #12 – The Deck At Anna Cabana
   Anna Cabana is one of the lake's top outdoor dining locations but it's unlike any other with very limited seating that offers a view of the setting sun in Sturgeon Creek. Join your friends and family on the deck for specialty drinks, craft brews and fun menu plus yard games like corn hole, giant Connect Four and Mega Golf. Live music on weekends is another bonus! Boat-in or drive up to this LKA™ Hot Spot and be ready for a memorable outdoor lunch or dinner experience. Visit their website to make a reservation.
Hotspot #13 – The Volleyball Court
   While we won't reveal the exact location (half the fun is finding these places!), this hotspot is down lake around the islands known as The Bahamas across from the power plant. It's a family-friendly area with clear, clean water you'll want to visit if you enjoy water volleyball.
Hotspot #13 – Mid Atlantic Watersports
  This is Lake Anna watersports HQ with two pro shops – one at The Boardwalk under Tim's and the other at Pleasant's Landing at the dam. You'll find eFoils, wakesport camps, water toys, apparel, rental boats and more for your visit, plus helpful staff that have a passion for marketing their sports.
Hotspot #14 – The Beach at Lake Anna State Park
  If you want to visit this LKA landmark on a weekend you'll need to arrive early and prepare because the beach is popular among day trippers. This sandy haven is patrolled by life guards and a delightful place for youngsters to splash around on a hot summer day.