Every year the staff comes up with our LKA Must-Dos. These are events, places, accomplishments and more we recommend you put on your own list for 2022-23. Some are challenging others are easily accomplished but no less satisfying. Some require a bit of luck and time. Each features a different way to enjoy the lake and the surrounding area. We want you to be amazed at what you can do when you visit and inspired if you live here.
We encourage you to email us your suggestions for next year's edition. Enjoy!
1 – Get up early to watch the sunrise from the dock or in the boat.
2- Watch the Independence Day fireworks being set off from Dike 2 from your own boat or a rental.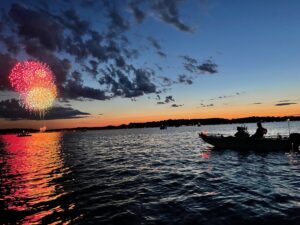 3- Build a nighttime bonfire near the shore, roast marshmallows and relive the day's adventures on the lake.
4- Visit the Lake Anna State Park for a day of sun, swimming, hiking and be sure to bring along a picnic lunch.
5- Go wakeboarding or wakesurfing behind a Performance Marine or Mid Atlantic Watersports wake boat.
6- Coffee and yoga on the dock.
7- Attend the Caribbean Beach Party held at Lake Anna Winery in August.
8- Rent a pontoon boat from Duke's Creek Marina, Shipwreck Boat Rentals, Lake Anna Marina, Mid Atlantic Watersports, LKA Watersports or Sturgeon Creek Marina and explore the lake with friends and family.
9- Anchor your boat near one of Lake Anna's islands and spend the afternoon floating and people watching.
10- Pick a couple dozen blue crabs on the deck at Tim's of Lake Anna.
11- Enjoy a live music performance and drink at The Cove restaurant/bar.
12- Catch the Lake Anna Grand Slam with McCotter's Lake Anna Guide Service.
15 – Fish a tournament out of Sturgeon Creek Marina.
16 – Do a Lake Anna Leap!
17 – Visit the Mineral Farmers Market.
18 – Eat dinner at Tavern on the Rail and finish up with a Train Wreck dessert.
19 – Enjoy an ice cream cone or shake from Moo Thru.
20 – Play mini golf at Christopher Run.
21 – Rent kayaks or a paddleboard from LKA Outfitters and explore the lake.
22 – Attend or host a dock party.
23 – Spend Thanksgiving at the lake.
24 – Enjoy a giant pretzel and a cider at Coyote Hole.
25 – Order and eat the entire Sushi Boat from Asian Café.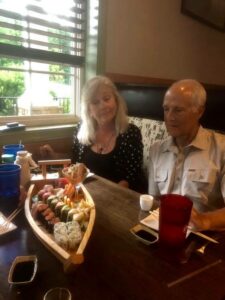 26 – Try eFoiling.
27 – Glow Party at The Sandbar.
28 – Shop for an LKA sticker, cap or t-shirt.
29 – Complete the Sandbar to Dam Run.
30 – Learn to wakesurf.
31 – Play water volleyball.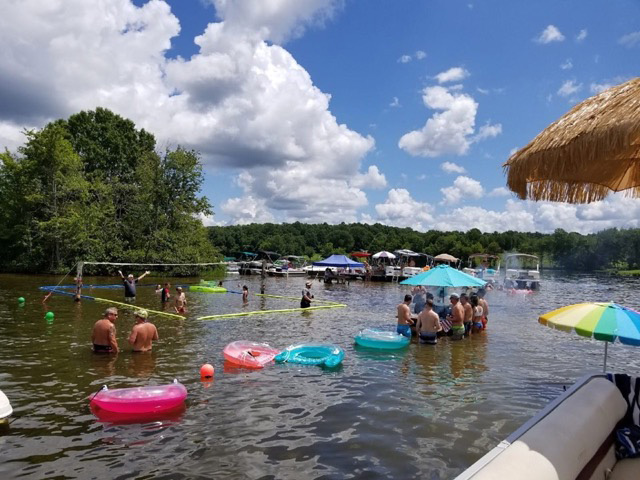 32 – Rent a personal watercraft from LKA Watersports.
34 – Explore the Beer Cave at Dickinson's Store when it's 100 degrees outside.
35 – SUP yoga with Angelina.
37 – Play cornhole at Lake Anna Taphouse.
38 – Enjoy Callie Opie's brunch.
39 – Find Skinny Dippers Cove.
40 – Switch over to LKA™ Time.
41 – Wine tasting at Lake Anna Winery.
42 – Find Cocktail Cove.
43 – Mountain bike Lake Anna State Park.
44 – View the LABP Lighted Boat Parade.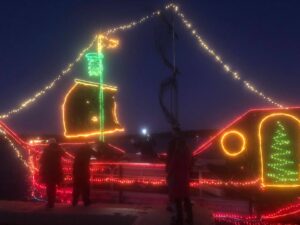 45 – Try to eat Blackbeard's Platter at The Cove.
46 – Kick back at The Lounge deck at Vito's.
47 – Do a boat-in dinner at Anna Cabana.
48 – Collect the LKA™ Christmas ornaments.
49 – Participate in the Lake Anna Clean Up Day.
50 – Paddle the Lake Anna Water Trail.