2023-24 LKA™ Dining Guide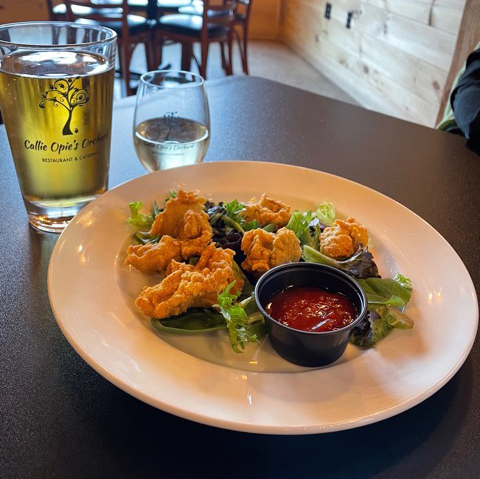 Besides the gorgeous scenery, amazing fishing, endless outdoor activities and fun in the sun, the Lake Anna area also offers plenty of dining establishments. Whether you are trying to decide what to pick up for dinner tonight or where to go to finish off your fabulous day on the lake, there is something for you at Lake Anna.
You've probably heard the expression: "Eat where the locals eat." It's very good advice worth following! With that in mind here are some the Lake Anna locals' favorites.
Asian Café
  Craving Sushi? Asian Cafe is located off the 208 bridge at the Lake Anna Plaza. Tie up at the new community floating docks and get some hibachi, sushi, sashimi, and chirashi! The menu features fresh selections with a variety of grilled and raw options, as well as vegetarian choices. At lunch or dinner, try the local Louisa Roll or the chef's special fried jalapeno appetizer. Sit inside or out on the patio while enjoying the views of the Lake Anna Yacht Club and lake.  The Sushi Boat is a local challenge to eat! Located at 200 Lake Front Drive, Mineral, VA 23117 (540) 894-9899
Callie Opie's Orchard
  Callie Opie's Orchard sets the standard for upscale dining at Lake Anna. The menu features traditional American cuisine often with a Mediterranean flair. This country chic restaurant is housed in a timber-framed building with an adjacent well-equipped, modern barn that is a large event space for weddings, holiday parties, and entertainment. 
  The menu changes seasonally with locally sourced produce and meats that typically offers gluten-free, vegetarian, and vegan selections. The half-priced burger night during the offseason is a local favorite. Live music if often available on weekends.
  Grab a seat on the patio or enjoy a finer dining experience in the dining room. Callie Opie's also offers on-site catering services. Callie Opie's Orchard is located near the intersection of Route 522 and Chopping Road just down the street from Dickenson's Country Store at 4533 Zachary Taylor Hwy, Mineral, VA. (540) 894-4343.
Coyote Hole 
  In addition to great cider, Coyote Hole has a chef and expanded menu for the 2023 season with their Kraft Kitchen serving hearty breaksfast sandwiches, (weekends), and area favorites like wings, various flatbreads, paninis, wraps, subs, giant prezels and an amazing charcuterie board. Pair any of these with a massive selection of ciders brewed on site.. Seasonal ciders are availabe as are Coyote Hole's famous apple cider donuts!
  Also new to Coyotel Hole Craft Beverages this season is a line of locally produced beers and soon, wine.
   You can enjoy all this indoor or outdoor, often while listening to great, live music. 225 Oak Grove Rd., Mineral, VA.  (540) 894-1053.
Cream & Caffeine
   Lake Anna's coffee shop located inside Lake Anna Taphouse offers all your favorites plus some you might like to try including lattes, macchiatos, cappuccinos, espressos, Americano, Cortado, frozen coffee as well as drip and cold brew coffee. Light pastry
breakfast items are available here, for a tasty morning treat before you hit the water. The whole family will enjoy the real dairy soft serve ice cream also served here. Just step up to the order window and pick your flavor. This is a boat-in or drive-in carry-out window. 208 Lake Front Dr, Mineral, VA.
The Cove at LKA
  Another great place to boat to is The Cove at Lake Anna located at Hunter's Landing on the upper Pamunkey Branch.
  Visitors will enjoy sitting outside on the upper deck or on the tiki bar patio – both venues are a great way to enjoy a cold drink and a good meal. 
   The Cove's menu is extensive so anyone will find something, and we love their burgers and wings. The nachos are also a great snack to share or eat yourself. Try Blackbeard's Platter with Cannonballs and Mermaid Juice!
  The bar offers all your favorites on tap as well as bottled beverages and hand-mixed cocktails.
  DC sports fan? Catch a game at the tiki bar. There is also a convenience store with quick grab-and-go options including subs, pizzas, soft-serve ice cream, and more. As well as gas for both boats and cars, including ethanol-free gas. This is a boat-in dining option and is located at 6320 Belmont Road, Mineral, VA. (540) 854-7000.
DK's
 Darren and Karen welcome your visit to their coffee and ice cream shop located nearby in the Town of Mineral.
  The shop is known for its famous Aussie sausage roll – a hearty breakfast or lunch  option featuring a spicy Austrailan sausage embraced in a flakey filo dough wrap. Freshly made muffins and cookies go great with their home-brewed coffees.
78 Davis Hwy, Mineral. (540) 864-6546.
Dickinson's Store
  Dickinson's Store is located at the intersection of Rt. 522 and Rt. 208. and provides customers with breakfast, lunch and dinner items, groceries, fresh coffee, Lake Anna souvenirs, fishing supplies and much more. You can gas up your boat while the deli serves up one of their daily specials, Champs Chicken is also a favorite option at Dickinson's and includes some of the tastiest fried chicken, tenders, and poppers you'll ever put in your mouth. The coffee bar serves gourmet brews. On those hot summer days, take your time shopping for your favorite domestic, imported and microbrewery beers in the Lake Anna area's only Beer Cave that is stocked daily and kept refreshingly cold. You'll find an excellent selection of craft beer here as well. Dickinson's Store is open daily from 6 am until 9 pm. 5072 Zachary Taylor Hwy, Mineral, VA 23117. (540) 894-5769
Elk Creek Country Store
 Another one of the lake's oldest gathering places, Elk Creek Store on Kentucky Springs Road (Rt. 652) has new upgrades. Everyone loves the new Perfectly Southern fried chicken/food bar and the weekly specials. Elk Creek Breakfast sandwiches and biscuits have fueled many an early morning fishing trip. The Elk Creek Club is a classic that contains turkey, ham, lettuce, tomato, American and swiss cheese and makes a hearty lunch after a morning wake surfing on the "hot" side. The deli is always open for your order and many folks will call ahead and grab their meal as they stop in for boat fuel. 5224 Kentucky Springs Rd, Bumpass, VA. (540) 872-3275.
El Gran Patron
  This is Lake Anna's newest restaurant, opening in the fall of 2022 down lake next to the dam. 
  Visitors will enjoy the nicely done interior dining room and bar and a patio with one of the best views on Lake Anna.
   The margaritas are massive and come in a variety of flavors, there's XX Ambar Especial on tap and a menu that features all your Mexican favorites plus some specialty dishes inlcuding the impressive Molecajete. The fried chimichanga is a local favorite as are the fajitas. 
  Choose to a Pick 2 or 3 for lunch and enjoy your choice of beef or chicken taco, enchilada, burrito, quesadilla or chili relleno.
  Be sure and say "hello" to Tomato and all the friendly staff when you visit!  349 Pleasants Landing Rd, Bumpass, VA. (540) 205-3005.
Hunter's Landing at The Cove
  This on-the-water convenience store is the place to go in the Pamunkey Branch with deli sandwiches, ice cream and pizza. A massive bank of coolers house a dizzying array of cold drinks and adult beverages. You can pull into the numerous open slips, fuel up the boat and send the young 'uns up the hill for ice cream! 6320 Belmont Rd, Mineral, VA 23117 (540) 854-7007.
Lake Anna Brewing Co.
   When you want to try the finest craft beers made at a lakeside location you'll want to put Lake Anna Brewing Co. on your list of Lake Anna culinary must-do's. Brewmaster Brian Gilbreth is crafting some truly special beers including porters, ales and stouts with a variety of complimentary flavors. 
 A full menu of pub grub can be paired with the beers like wings, pretzels, potato twisters, fries, burgers, tacos and more. 208 Lakefront Drive, Mineral, VA. (540) 634-7500.
Lake Anna Taphouse
   What's a good beer without food, right? Lake Anna Taphouse's menu features LKAer favorites like chicken wings, hand-twisted pretzels, the incredible potato tornado, jalepeno poppers, more fried bites than you'll find at the state fair, funnel fries, loaded fries, chicken salad croissant, pork sliders, pork tacos, loaded nachos, a charcuterie board and more to go with over 35 beers. The totally new "Back Yard" is lakefront with turf, long views, giant chess, firepits, umbrellas and cornhole sets for your party. Drive-in or boat-in, there are plenty of free boat slips available. Located lakeside at 208 Lakefront Drive, Mineral, VA. (540) 634-7500.
The Mad Batter
  Lake Anna's bakery is located in the nearby Town of Mineral. The Mad Batter offers freshly made cakes, cookies muffins, innovative cupcakes and custom cakes for weddings, anniversaries and other special occasions. Hours are M-F 10a-6p and Sat. 9a-7p. Located a short drive from the lake at 121 Mineral Ave., Suite B, Mineral, VA.
Moo Thru
  Inspired by the original located on Rt. 29 just outside of Warrenton, the Lake Anna Moo Thru features ice cream made from natural ingredients including milk from the original family farm. Since this ice cream shop is located at The Boardwalk on Lake Anna you can boat in with your crew of hungry folks and enjoy some seriously huge waffle cones and heaping scoops of homemade, fresh ice cream, milkshakes, sundaes and pints to go. The owners and their local staffers for this season are looking greatly forward to your visit. 200 Boardwalk Way, Mineral, VA. (540) 661-6401.
New Bridge Market & Deli
  Mr. Dave and his staff are up the earliest for breakfast at the lake. Stop in for traditional breakfast sandwiches early and then tasty fried chicken or deli sandwiches for lunch. There's also fresh-brewed coffee and plenty of convenience store snacks. 2983 New Bridge Rd., Mineral, VA. (540) 894-0003.
Sabor A Mexico
   Sabor a Mexico is an adorable cantina in the shopping center at the stoplight in Mineral with authentic and flavorful Mexican food. Local favorites are the carnitas, tamales, and enchiladas because the portions are large at an affordable price. They don't skimp on the chips and salsa, so be prepared with your favorite cerveza. 201 Mineral Ave, Mineral. (540) 894-5500. 
Smokin' Eddie's BBQ
  When your mouth waters for BBQ look no further than Smokin' Eddie's in nearby Louisa. Lake Anna's favorite BBQ joint serves smoked baby back ribs, smoked chicken, brisket, hickory smoked pork BBQ by the meal or by the pound to go. The Family 4 Pack is a popular option with a pound of BBQ, two large sides and four buns. All sides are homemadet including hush puppies, mac & cheese, fries, baked beans and onion rings. 213 W. Main St. Louisa. (540) 967-1990.
 Subway Lake Anna
  Larry's crew on the Subway Lake Anna Line are cheerful and efficient. You can walk in or better yet, order/pay online so you can grab and go when the water calls. Want your dock party catered? Call ahead and Subway is ready for your hungry guests. 11020 Kentucky Springs Rd., Mineral. (540) 894-5588.
Tasty Crab Seafood & Chinese Restaurant
  Tasty Crab Seafood & Chinese Restaurant, is an independent, locally-owned restaurant, specializing in the finest seafood, Chinese dishes and Ramen noodles. Featuring Vietnamese pho, seafood buckets, and stir-fried noodles. 
  Their Ramen dishes allow customers to experience authentic Japanese cuisine.They also offer many Chinese dishes considered the best at Lake Anna. Located at 200 Lake Front Drive, #101, Mineral, VA  23117 (540) 894-0007.
Tavern on the Rail
  Tavern on the Rail and Back 40 Event Barn is a unique and special dining establishment.  
  The 1837 building, a Nationally Registered Historic Landmark, was restored by owner Melody Bowers. The upstairs offers upscale yet relaxed dining.  The downstairs is welcoming and cozy for casual dining or a quick bite.  The restaurant is open Friday and Saturday 11:am – 2:30 pm for lunch and the gift shop and deli open until 5:30pm. Dinner is served Saturday 5p-9p. 
  Visitors will enjoy the beauty of a 170 year old general store that has been restored to a rustic, yet elegant atmosphere.  
  Tavern On The Rail is located only minutes away from Lake Anna. 81 Tavern Rd Mineral, on Rt 618 in Fredericks Hall, 5.5 miles east of Mineral in Louisa County. (540) 872-7245
Tim's at Lake Anna
  Tim's at Lake Anna is the go-to local spot for seafood and fun mixed drinks! Their popular "Killa Driller" is a fan-favorite cocktail—named for that pesky hydrilla. Its recipe is top secret—they'll never tell! 
  Have a "C.O.W." with Tim's cocktail of the week—delicious new concoctions available every week! 
  Kick off your meal with some "Lures and Nibbles" such as homemade crab dip or fried crab balls. Don't miss out on their seafood platters or something from the steamer. For the land lubbers, their fried pickles and ½ lb. burgers are good eatin'. 
  Tim's at Lake Anna's inside dining room is the place to catch a sporting event on one of the many TVs or to try any of the "Top 44 at the Shore" specialty beverages at their indoor tiki bar. 
  The massive outdoor deck overlooking the lake is considered a Lake-Anna-must-do. 
 Located in the North Anna side of the up lake region, at the Lake Anna Boardwalk, Tim's is great for both sea and land lubbers with boat and road access. 
  Check out Tim's daily food specials on Facebook. 200 G Boardwalk Wy, Mineral, VA. (540) 894-5011.
The Lounge at Vito's
  The waterside dining option in the mid lake region has one of the best views of Lake Anna of any restaurant. This is a rooftop patio bar with indoor and outdoor seating options that offers it's own bar menu as well as the full menu from Vito's. 
  The Lounge offers visitors high tops, regular tables, even outdoor couches for a relaxing dining atmosphere. They have a full bar with a number of hand-crafted specialty drinks and a selection of premium cigards. 
  Evenings on The Lounge deck are filled with specialty drinks, live music performances and an incredible view of the lake. 200 Lakefront Dr., Mineral, VA. (540) 894-4440.
Vito's Italian Restaurant & Grill
   This family-owned eatery is located at Lake Anna Plaza on the Louisa side of the Rt. 208 bridge offering diners several seating options, both indoor and al fresco, two bars and a beautiful deck (The Lounge) that overlooks the lake.
   Rosie Taormina is at the restaurant daily making sure his extensive menu is prepped and ready for lunch and dinner service. Visitors can choose from pizza, pasta, burgers, stromboli, calzone, salads, and panini sandwiches (great to take in the boat). Pasta specialties are many and include lasagna, tortellinis, Gnocchi Al la Vito featuring penne pasta in olive oil with fresh tomatoes, feta cheese and topped with fresh basil, Linguini ala Leo featuring pasta in Alfredo sauce with spinach, tomato, crab meat and a hint of Old Bay seasoning. You are also encouraged to create your own, custom pasta dish!