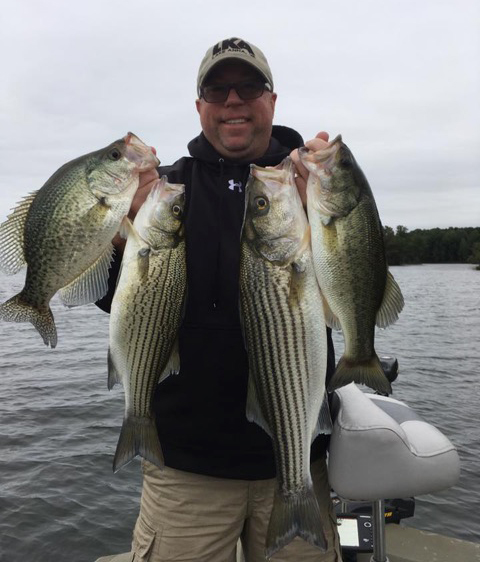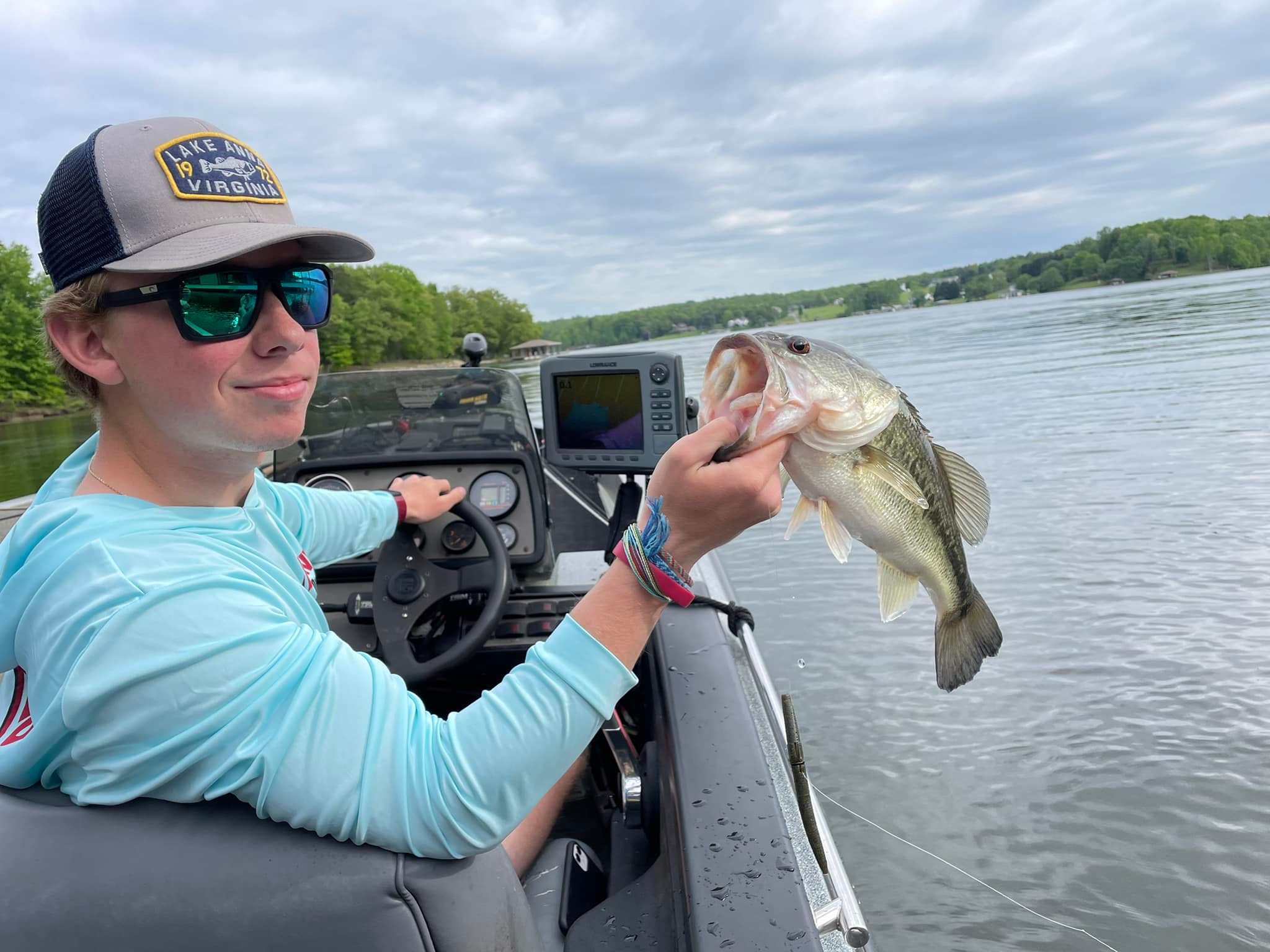 When people come to fish Lake Anna they usually pursue one of three species; crappie, largemouth bass or striper. While it's not a sure bet, you do have good odds to catch all three in one day, if you know where to look. Now, with the addition of a fourth major sportfish to the lake, anglers can quest for the Lake Anna Grand Slam; a challenge that includes what is known locally as a wiper.
  Wipers are the result of crossing striper and white bass. They can attain weights of 10+ pounds eventually and tend to fare better than pure striper in thermally-enriched waters such as Lake Anna.
  The Virginia Department of Wildlife Resources experimentally stocked 125,000 wipers back in 2014 and they have been thriving ever since. Anglers have reported catching them up to 12-4, 28 inches and biologists are hoping the lake will produce a 15-pounder in the coming years.
  If the Grand Slam sounds intriguing, read on for some annual patterns you might find helpful when trying to "Slam" during your visit.
   The lake's plentiful crappie invade the shallow coves and shores of the lake usually around the end of March. First they feed and then they spawn. Spawning takes place over the course of a month or so throughout the lake, with the up lake fish finishing last. Once the crappie complete the spawning ritual they will move out to structure in deeper water like the ends of docks, brush piles, rocks and bridge pilings. They will move progressively deeper as the water warms into the summer. By late September, they will come back to the docks one more time before overwintering once again in deeper water.
   Largemouth bass fishing on the lake has been consistently good for many years. It's not uncommon to catch a bucketmouth weighing five to six pounds at any time of the year.
  Like crappie, largemouths move shallow to spawn in the spring, usually by mid April. Before the bass move shallow many anglers do well casting a suspending jerkbait. When the lake's bass do move shallow and begin to spawn, at this time you can spot them on their beds and sight fish for them, casting lures.
  Once the spawn is over the bass will leave the shallows to recover then return and feed heavily into June. This is a great time to use a topwater plug to catch a big bass.
  In the summer many largemouths seek refuge from the heat. You'll find them in the willow grass lines in the upper end of the lake or on underwater structure in areas where the water is clear and deep.
  By September, they are back in the shallows in great schools and feeding on herring or shad before moving offshore into deep water winter haunts. Vertical jigging for them is most productive November through January.
  The striped bass (a.k.a. – striper or rockfish) that are stocked into the lake each year are the same fish that inhabit the Chesapeake Bay. Each year over 100,000 striper fingerlings are released into Lake Anna. In about four years they reach "keeper" size of 20 inches.
  Anglers have caught striper up to 26 pounds from the lake, though the average fish is about six pounds. You can cast to them with artificial lures, pull live baits and even bottom fish with cut bait.
  Striper make an annual run into the upper end of the lake in both the North Anna River branch and Pamunkey Branch of the lake. They feed in shallow water often from the end of February until May and spawn sometime in April/May. Once they spawn, the fish migrate back down into the mid lake region and remain there for most of the summer. In the fall they move up lake a bit and intercept large schools of threadfin shad. By winter, they are mostly back into the mid lake region.
  Wipers are fairly new to the lake, so anglers are still trying to figure out predictable patterns. One thing for sure it that they tend to congregate around baitfish and consume them voraciously.
   Hotspots for wiper the past few years have been mid lake in the winter and early spring and down at Dike III in the late spring and summer. They will bite most lures intended for bass or striper, especially small swimbaits, live shad or herring and topwater plugs.
  Other common fish you can catch in Lake Anna include channel catfish, bullhead catfish, yellow perch, white perch, snakehead and many sunfish species.
  What's the fishing like on the "hot" side of Lake Anna? Much better in October through mid June than it is in July through September when water temperatures can hit 100 degrees.
   Guided fishing trips are a popular way to enjoy Lake Anna with friends and family. McCotter's Lake Anna Guide Service (www.mccotterslakeanna.com) is the longest running service on the lake with six guides and multiple types of boats and trips intended for families and fishing buddies.