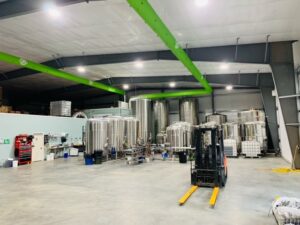 Hard work, concentrated effort and determination equal success and one Lake Anna business embodies this formula since its founding.
  Coyote Hole Ciderworks is a family-owned and operated business located in the heart of Lake Anna founded in 2016 by Chris and Laura Denkers. Chris started making cider as a hobby and soon that hobby became Coyote Hole Ciderworks. 
  In the beginning the cider was only sold in their tasting room and was self-distributed. When the Denkers signed on with distributors in 2021 they quickly outgrew their production area and determinted they needed to expand if they were to continue the upward trajectory.
   "We are proud to announce that we constructed a new 10,000 square foot  production facility  to allow more seating in our tasting room and expand our production for distribution," Denkers told Life & Times recently.
   We have a canning line that can produce 100 cans a minute and the ability to produce a lot more cider to grow our distribution." 
  The facility is located on the 10-acre Coyote Hole campus located just off Rt. 208 on Oak Grove Road (across from the Lake Anna Food Lion).
  Denkers now distributes his ciders in Virginia, West Virginia, Maryland, Pennsylvania, New York and New Jersey. The cider is sourced from 100% Virginia apples from an orchard in the Blue Ridge Mountains. 
 "We pride ourselves on supporting local agriculture in our beautiful state. We go through around 760,000 apples a year and strive to make a cider to please any palette from our flagships, sangrias and seasonal ciders. Our Sister Sangria, Sunset Sangria and Sangria just won medals in the US Cider Open, and we recently became partners with UVA as their official cidery," noted Denkers. 
   The new tasting room seating addition is almost 1,500 square feet and can be completely private from the regular tasting room. The space is available for rent for events and private parties.
  Along with the hard ciders they produce, the tasting room also supplies local craft beers, wine and offers a full food menu. The cidery is open for lunch at noon every day and serves brunch every Saturday and Sunday starting at 9 am.