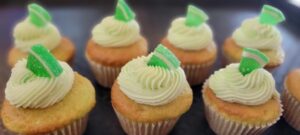 Mad Batter Creates Landmark Cupcake Series
  If you've visited Mad Batter Bakery in Mineral you've probably seen, or maybe even eaten, their famous cupcake the "Hippie Dancing Queen." What some customers may not know is how that cupcake got its name.
If you attend live music events around Lake Anna you have probably spotted our famous friend, Terri, also known as the Hippie Dancing Queen, out on the dance floor. She is usually wearing tie dye and having a blast! This marble cupcake topped with tie dye icing is named after her. The Mad Batter is excited to announce a whole new series of cupcakes coming out this spring called "Famous Friends." They will be using Facebook to ask their customers to nominate friends from the community to have a cupcake named after them.
  The local bakery just minues from the lake will also be doing a Lake Anna Life Series of cupcakes.