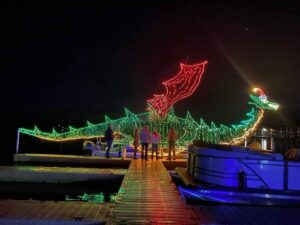 December 10 was a special evening on Lake Anna with two lighted boat parades taking place one travelling from Tim's to Lake Anna Taphouse, the other departing from and returning to The Cove in the Pamunkey Branch. 
  The fourth annual Lake Anna Business Partnership Lighted Boat Parade saw 14 entries ranging from run abouts to pontoons with a variety of holiday themes and festive lights depart from Tim's and follow a parade route that included a promenade in front of the Lake Anna State Park viewing area and the 208 marinas before docking to huge, cheering crowds that had gathered at Lake Anna Taphouse.
  "The look on people's faces when all the boats approached the Taphouse docks was of wonder. When Scott Cleaves' dragon boat drew up, it was sheer amazement," LABP Lighted Boat Parade  committe chair Randy Thomas told Lake Anna Life & Times.
  Cleaves' entry was built on a 24' pontoon but stretched over 35' from tail to nose and was over 20' high. The wings actually flapped and "smoke" in the form of a fine water spray spewed from the mouth of the dragon.
  Thomas said Cleaves' boat was the clear first prize winner – a brand new Charbroil grill provided by Louisa True Value, a $75 gift card to Callie Opie's restaurant as well as one of the 2022 50th Anniversary Lake Anna ornaments provided by Lake Anna Outfitters.
  The second place finishing boat was entered by Jeff and Lori Iannazzo, residents of Mill Run subdivision. They won a $50 gift card to Asian Cafe and one of the 2022 50th Anniversary Lake Anna ornaments.
 The third place boat was entered by Stephen Purks and earned him a swag bag of apparel provided by Lake Anna Outfitters and one of the 2022 50th Anniversary Lake Anna ornaments.
  All of the entrants were given goodie bags from LABP.
  Judges for this year's parade were Jack Snyder/Golf Pro at Cutalong, Casey Hollins/Managing Director of Communications and Public Relations for Rappahannock Electric Cooperative and Karen Welch/Director of the Louisa Arts Center.
   Invaluable support was provided by the Louisa County Sheriff's Department, Spotsylvania Fire & EMS as well as Gary Jacobs from BoatUS Lake Anna.
  "I want to thank Amy Riggleman and her staff at Tim's, Brian Gilbreth and his staff at Lake Anna Taphouse, our dedicated law enforcement and safety officials, Gary, Randy, our judges and especially all of our entries for making this the biggest and best Lighted Boat Parade yet. We forward to lighting up the lake again next year" LABP President C.C. McCotter told L&T.