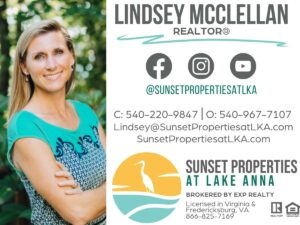 What sets a Lake Anna real estate company apart in this age where competition is fierce for listings, equally competitive for buyers and homes sell for well over $1 million? Is it local knowledge, work ethic, accessibility, personality, results, the ability to use technology? It's probably all of the above as many successful realtors display these qualities.
   Two, local realtors that paired up in 2020 to create a highly effective real estate team are Lindsey McClellan and Jimmy Snyder. For the past two years they worked tirelessly to build a client network and establish themselves at Lake Anna. They were highly regarded by their peers and clients, so it was only a matter of time before they opened their own real estate company and recently, they formed Sunset Properties at Lake Anna.
   "We created Sunset Properties at Lake Anna as a way to raise the bar for the client's real estate experience," McClellan told Life & Times.
   How do you accomplish that? According to the resident of the Shorewood community on Contrary Creek, there are two ways. 
  "The first is next-level professionalism. Frequent communication with buyers and sellers, agents, lenders, title professionals, inspectors and contractors is critical so everyone involved is on the same page throughout the entire transaction. In real estate, there can be differences of opinion. The agents at Sunset Properties at Lake Anna work to resolve these differences with professionalism."
  "The second way to raise the bar for our clients is through availability. Because Sunset Properties at Lake Anna is a real estate team, clients have multiple people available to assist them throughout the home buying or selling process. The transaction coordinator assigned to assist you works alongside the agents to ensure that the process runs smoothly and that things do not get overlooked."
  Another way McClellan and Snyder are distinguishing themselves is to present home listings in a way that is appealing to buyers. 
  "To ensure sellers put their best foot forward, Sunset Properties at Lake Anna provides each of our clients a consultation with a home stager. During the consultation, stagers will make recommendations on ways to de-clutter, ideas for decorating and offer tips for increasing curb appeal," notes McClellan. 
  Outside of real estate, the agents at Sunset Properties at Lake Anna are committed to community service. McClellan serves as the Secretary of the Lake Anna Business Partnership.
 "We recognize the importance of giving back to the people we interact with on a daily basis."