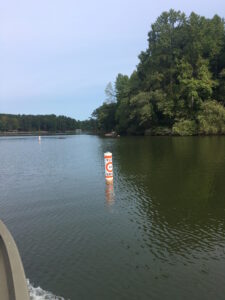 At it's November 23 meeting the Lake Anna Advisory Committee (LAAC), lead by a motion from vice chairman Spotsylvania Supervisor Kevin Marshall, voted to ask the Department of Wildlife Resources to reconsider it's position on a No Wake Surfing Zone application LAAC denied at its July 27 meeting. If the state agency was willing to reverse their position, Supevisor Marshall noted, LAAC could then reconsider the application.
  The initial vote on the application took place at the group's July meeting presided by Marshall (Chair C.C. McCotter was absent), who made the motion to deny the application. 
  The application would create a No Wakesurfing zone in the upper Pamunkey Branch just above The Cove Restaurant and into the mouth of Terry's Run.
    The applicant, Jeff Coulter, claims he was not able to defend his application because he was not notified it would be discussed at the July meeting and  the discussion was added to the Agenda that evening. LAAC is not required to let applicants know when their application is being voted on.    
  "In the name of good governamance, I commend Supervisor Marshall for his motion that addresses Mr. Coulter's concerns and may possibly permit a reconsideration of his application," LAAC Chair C.C. McCotter told Lake Anna Life & Times.
   Lake Anna has three No Wake Surfing zones: two in the upper Pamukey and one in Terry's Run.