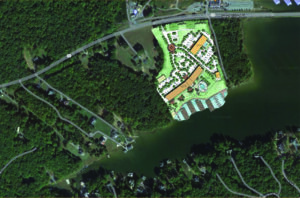 For years Lake Anna residents have been hearing about plans to create a hotel/resort complex on property across from Lake Anna Plaza fronting Rt. 208 and Mitchell Creek. A number of developers have tried but none so far have succeeded. The latest effort nearly reached a Louisa Supevisor vote on December 5 until the developer asked for a deferral on his Planned Urban Dwelling rezoning application.
  Mike Grossman and Mike Garcia of LA Resort LLC. are leading the effort to develop the 15.27-acre tract into a resort project that calls for a rezoning and a Planned Urban Development classification.
  "The subject assemblage is currently zoned Commercial C-2. This request is to rezone the entirety of the assemblage to Planned Unit Development ("PUD"). If approved, the development will fully embrace the growth area overlay standards for site and architectural design, landscaping, buffering, screening, and open space. In addition, the development's character will include many characteristics outlined in Sec. 86-310 of the Louisa County, VA Code of Ordinances," Grossman told L&T.
  The plans create a mix of hospitality and retail/restaurant space including 1) an upper mid-scale to upscale hotel with commensurate amenities to include uncovered boat slips to be shared with restaurant patrons, 2) a restaurant/bar, retail 3) other commercial uses, 4) a luxury residential condominium building with varying floorplans featuring an expansive lobby/lounge area, fitness facility, mail and package management facility, pet wash and grooming facility and community gathering area. Exterior amenities to these condominiums include all-season covered boat slips (a total of 130 covered and uncovered slips), an expansive pool with pavilion/grill area, beach, paddle sports area, firepits, playground, dog walk area, gathering places and a pedestrian-orientated path and trail network.
  So why is the time right now for this version of the Lake Anna resort according to Grossman?
   "The Lake Anna area would benefit from a leisure travel and business extended stay hotel and additional quality restaurant establishments. In addition, significant market demand exists for luxury residential single-level living condominiums offering an experience tailored towards affluent retirees, active adults and vacation/second home buyers. These market segments are growing within the region and desire an upscale 'fit and finish' with commensurate amenities, a maintenance-free lifestyle and direct access to the lake. The proposed Lake Anna Planned Unit Development seeks to address these underserved market segments within the Lake Anna area."
  According to the northern Virginia resident and developer "[the site] is located at Louisa County's primary northern Virginia access gateway on New Bridge Road (Route 208), just west of the Route 208 bridge. The proposed planned unit development is within the Lake Anna Growth Area and, more specifically, the Route 208 corridor. As stated in the 2040 Louisa County Comprehensive Plan, 'Mixed-Use development is desired along the Route 208 corridor providing an area for high quality commercial and residential development with a density higher than in other parts of this growth area.'"  
     Life & Times asked LA Resort develper Grossman what he would do if the County denied his PUD.
  "We will pursue the next highest and best use after the PUD, which would be a by-right condo hotel."  
  The project is somewhat dependent on access to an existing wastewater treatment plant across Rt. 208 at Lake Anna Plaza/Island owned by a private company that has been cited by the Virginia Department of Environmental Quality in the past.
   Residents like Phil Winston and Ryan Underwood who live in Mitchell Creek where the resort rezoning is proposed, have major concerns about many aspects of the plan. Many fellow citizens have been attending Board of Supervisors' meetings and Planning Commission meetings.
  "There is nothing in this proposal that is good for the citizens of Louisa County.  It is all for the good of an out of town developer," Winston told Life & Times recently.
  Underwood was more elaborate in his criticism of the proposed resort.
  "The Resort proposal doesn't fit the rural character and charm of Louisa – which citizens of Louisa have overwhelmingly asked for in their responses to the Louisa 2040 Comprehensive Plan. If you look at the new veterinary hospital near the Food Lion – that building looks great and it's a service that the citizens and nearby residents use. 
  "The area in and around the proposed resort is an identified growth area and a Louisa gateway, both identified in the 2040 Comprehensive Plan. The growth area draws in development, with the intent to maintain rural character elsewhere, and the gateway is supposed to create community identity and pride and facilitate traffic flow. 
  "As proposed, the LAR plans haven't evoked pride in anyone I've spoken to. I'm pretty sure that 100 new luxury condos will not help traffic in this already dangerous and congested corridor. With what the developer has committed so far, these will become short term rentals."
  When asked what he would support on the property, Underwood responded, "The fact that Lake Anna property will be developed is a foregone conclusion – I think everyone knows that. 
  "The question that I keep asking is, "is this the best we can do with this piece of property?" 
 "I believe that for the developers, this plan represents the most money they can make and still move on easily. For the citizens of and visitors to Louisa there are better options. What about a restaurant or an urgent care facility? Even a normal hotel near the road where windows aren't looking down into R2 zoned houses, or an event center with a pavilion for weddings and gatherings. A dozen rental cabins, similar to the Lake Anna state park – that seem to be rented year-round, would provide something that visitors want, all with the character that the county is trying to maintain."
  Regarding the memoradum of understanding Louisa County has with the owners of the wastewater treatment plant across the street that would serve the resort if built, Underwood had this to say:
   "I believe one MOU stated that if the PUD were approved, LAR will pay Louisa County $1M towards the purchase of the WWTF. As a Louisa resident and taxpayer, I categorically prefer that luxury condo developers pay for the WWTF acquisition and upgrade, as it's their developments that require its existence. 
  "Now, if we were talking about retail shops, an urgent care center, restaurants and other facilities that us residents use, then I can see the county making an investment. The LAR is not a facility that is built to be used by residents."