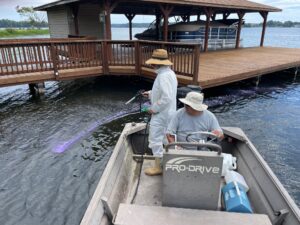 On August 15 a Virginia licensed aquatic herbicide applicator contracted by the Lake Anna Advisory Committee (LAAC) treated the rear of Freshwater Creek and coves around Tara Woods for hydrilla.
  The application was part of LAAC's Hydrilla Management Protocol initiated after surveys identified the areas as having hydrilla in 2022 as well as this summer. The hydrilla in Freshwater Creek has grown to the surface in past years and posed a threat to navigation – the main trigger for aquatic herbicide application.
  Back in March, LAAC oversaw the introduction of 200 plus grass eating carp into the back of Freshwater Creek at the Pine Harbour subdivision access area. Limited numbers of these carp can act as hydrilla limitors. Too many carp can denude a lake of beneficial submerged aquatic vegetation.
     LAAC Chairman C.C. McCotter noted that the group was monitoring other areas of the lake with hydrilla with John Casale, chair of the Environmental Subcommittee, logging them for future treatment if deemed necessary.
  "We must remember we are living on a lake, not a swimming pool here. We will have aquatic weeds like hydrilla, water willow, water nyad and lily pads, plus snakes, leeches, fish that nibble at you and more. Some aquatic weed is good for the lake. These plants filter sediments and excessive nutrients that feed algae blooms, so we must be careful with our management," he told Life & Times.
  The August treatments will kill the emergent hydrilla within a few days. LAAC budgeted over $14K to manage hydrilla this year – approximately $3K for the carp and the rest for application of aquatic herbicide. The tri-county group is tasked with aquatic weed management in the lake and administration of the hazard and No Wake buoy system. LAAC is funded by Louisa ($7), Spotsylvania ($7) and Orange Counties ($1K).
   LAAC has treated Lake Anna with aquatic herbicide twice before. They have also used stocked grass carp in limited numbers. While present in the lake, hydrilla has not reached nuisance levels throughout.
  Hydrilla was brought to the US via the tropical fish industry which collected it in Asia and used it in fish tanks. It can spread rapidly and grow quickly given the right conditions. Anglers and fish generally like it, while homeowners and boaters do not.