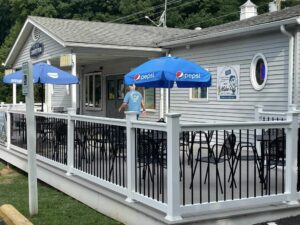 The lake area's country stores are more than just retailers, they are community gathering spots on many levels.
  Elk Creek Store on Kentucky Springs Road functions as just such a fixture in the Lake Anna community with fuel and food sales making the parking lot a busy place every weekday at lunch time and on weekend mornings.
   Recently, owner Mike Rassawella invested over $75K to renovate his store, deck and parking lot. 
  "We paved the parking lot and did our best to extend the drive off Kentucky Springs to accommodate our contractors with trailers and trucks," noted Rasawella. "We also took off the old deck and built a new, bigger one of composite material, adding tables and umbrellas for outdoor dining."
  Rassawella's manager Terry Snyder has been instrumental in the transformation of the store.
 "Honey, if you knew what it took to keep this place looking good, but I'm getting there," Sndyer told Life & Times. 
  New menu items to enjoy on the deck include burger sliders and craft beers.