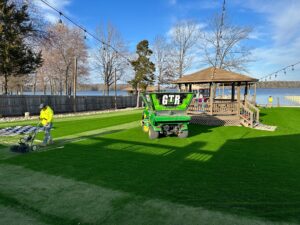 Lake Anna Taphouse Adds New Turf And Beach
The days of slogging through the sodden grass at Lake Anna Taphouse are over with the recent installation of turf on the entire lakeside grounds.
  "We've resodded that area three times now. The amount of traffic it gets does not allow grass to grow.
We wanted to make the area more useable throughout the seasons so we decided to turf it," Lake Anna Taphouse owner Brian Gilbreth told Lake Anna Life & Times.
  He noted the nice thing with turf is when it rains, the water drains through the turf. In the past, in any weather event that came through it would create a muddy mess and he'd have to cancel musical perforfmances.    
  GTR, a local company did the job using a synthetic grass materials designed to keep the entire area well drained and cool in the summer.
  "Ben and Simon and their team did a great job. Approximately 8,500 sq. ft. of turf was installed. They created a beach area near the floating docks, three putting greens and a giant chess board," Gilbreth said.
   Other upgrades for the popular lakeside venue at the 208 bridge include redoing the seating on the deck and on the turf to double the seating capacity, more bars outside and mixed drinks.
  "We'll have a summer season of specially made cocktails and we have been brewing a bunch of new beers for the spring and sumer season including a summer mango IPA, a traditional Kolsches."
Gilbreth said the 2023 live music schedule will feature many new names.
  "We've made a big effort this year to bring in new talent for outside the area – MD DC, WV and NY."
  Gilbreth is also going to mix in some new events like a comedy show, an annual Lake Anna 70's themed birthday party and a pirate themed weeklong celebration. The annual spring Lakefest Festival will be held again in May.