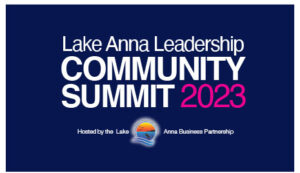 Lake Anna Summit
   Back in 2019 the Lake Anna Business Partnership (LABP) held an innovative event dubbed the Lake Anna Community Summit. Over 20 area information sources were invited to participate and give five-minute presentations. This event was held using the Zoom video conferencing software and enabled hundreds of lake and lake area residents to listen in and ask questions.
  Speakers varied from developers to VDOT representatives, County planners to fisheries managers, civic group leaders to Lake Anna Advisory Committee leaders. The meeting was informative and well-attended.
  The LABP is planning on holding another Community Summit on March 16 from 2-4 pm.
   "Our goal is simple; to provide a virtual meeting place for Lake Anna residents/property owners to receive information from local and regional government representatives, civic groups and corporate neighbors relevant to the Lake Anna community in the spirit of educating, informing and creating better lines of communication," LABP President Jody Korman told Lake Anna Life & Times.
   Korman told Life & Times the summit will employ 20, approximately five-minute presentations by selected representatives focusing on topics like Lake Anna Infrastructure to include Louisa County's plans for the New Bridge Wastewater Treatment Plant, the traffic circle planned for Ware's Crossroads, Lake Anna EMS at 208, road improvements for Louisa and Spotsylvania, Lake Anna Development projects, a report from Dominion Energy, the Lake Anna Advisory Committee's hydrilla management plans, Lake Anna Civic Association's concerns/projects, Louisa County tourism, Spotsylvania tourism and Lake Anna law enforcement.
  The event is open to the public. Anyone with a Zoom account will be able to tune in, even ask questions via the Zoom Chat feature.
   To find out more how to participate in the 2023 Lake Anna Community Summit, go to www.facebook.com/LakeAnnaBusinessPartnership for log-in information.