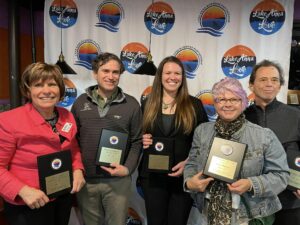 Lake Anna's Persons Of The Year Recognitions
  The Lake Anna Business Partnership conducted its annual Persons of the Year recognitions culminating with an in-person vote for Businessperson of the Year at its February 21 Business After Hours held at El Gran Patron restaurant.
"This night and accompanying recognitions were the culmination of our nomination process and some dedicated work by the committee members headed up by Ronda Guill," LABP president Jody Korman told Lake Anna Life & Times.
   Member businesses are nominated for Best New Business of the Year, Young Entrepreneur of the Year, the Legacy Award, the Richard Binns Community Service Award and the Businessperson of the Year Award.
   Puneet and Nadia Aluwahala, owners of Hotel Lake Anna were recognized as having the Best New Business of 2022. The duo purchased Lake Anna Lodge, renamed it Hotel Lake Anna and completely renovated many of the rooms and grounds in 2022.
   Artist Jennifer Christian received the Young Entrepreneur of the Year recognition. In 2022 she worked with local businesses to create a LakeAnnaopoly board game (like Monopoly, but with local properties) that is sold in many area shops like Lake Anna Outfitters, Lake Anna Tractor & Hardware and Home Point Lake Anna.
   Jody Korman was recognized as the recipient of the 2022 Richard Binns Community Service Award based on her tireless litter control advocacy with the Friends of Lake Anna Beautification Group. She organized and participated in numerous community road clean ups, inspiring many residents to join her.
   Mark Smith was recognized with LABP Legacy Award. Smith served two terms as LABP president and was treasurer, overseeing the beginning of LABP recent expansion, the updating of the LABP visitlakeanna.org website and transitioning LABP finances to online banking.
  Dr. Daniel Slovis of Lake Anna Veterinary Hospital was voted by the attending members as the LABP Businessperson of the Year. He opened his practice 10 years ago in the New Bridge Landing then bought property across from the shopping center and built his own building featuring the practice and state-of-the-art equipment.  Slovis joked he would become the Susan Lucci of LABP award night if he didn't win this time after being nominated three years running.
  Jean Martin of Southern Image Design & Build and Lake Anna Life & Times Publisher Christopher C. McCotter were also recognized with dedicated service awards.
  The Lake Anna Business Partnership consists of over 155 businesses and social members that meet monthly at a different Lake Anna venue for a Business After Hours networking event. LABP also holds the annual LakeFest and Lighted Boat Parade. They are planning a Lake Anna Summit March 16 and a Lake Anna Job Fair May 16 this year. For more information on how to join go to www.visitlakeanna.org.