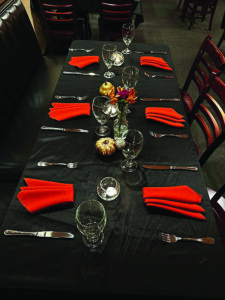 Lake Anna foodies know the staff at Vito's enjoys offering special off-season meals and wine promotions. The popular lakeside restaurant and lounge, helmed by Rosalino Taormina, is known for serving Italian dishes, stone oven pizza and it's popular upper deck, indoor and outdoor lounge – a venue with a view like no other at the lake.
 Recently, the restaurant has begun holding  fine dining events each month featuring several off-the-menu gourmet entrees. The most recent fine dining experience served tomato jam and goat cheese bruschetta, honey Dijon glazed pork porterhouse with a side of asparagus au gratin, seared seabass topped with crabmeat over a bed of arugula salad and lamb lollipops over a mint pesto base, with a side of rice pilaf. The next fine dining event will be held January 5.
      This lakeside restaurant will also be sponsoring steak nights throughout the off-season, the next of which will be held the evening of December 19 and feature a 26-oz. Tomahawk steak for two served with a side of mashed potatos and grilled fresh asparagas.
  Reservations are required for both evening events. Check their Facebook page (www.facebook.com/vitosonthelake) for more upcoming dates and menus.