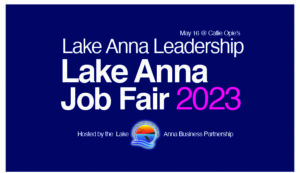 Lake Anna Job Fair
   The Lake Anna Business Partnership (LABP) is holding a Lake Anna Job Fair May 16 at Callie Opie's Event Barn in hopes of addressing the continuing staffing shortages area businesses have experienced the past two seasons.
  "The number one thing that inhibits our members' businesses is not having enough staff to cover a shift or not having the right personnel for the job," LABP President Jody Korman told Lake Anna Life & Times. "We are going to try and provide member businesses with more staff."
   LABP Past President Christopher C. McCotter brought the idea to the LABP Board of Directors and they agreed to move forward with the event. McCotter next contacted Mike Kavros, owner of Callie Opie's Orchard Restaurant, and asked if he would host the event.
  "Mike has done so much for the community since he's operated the restaurant and he knows the staffing issues. Plus, his event barn is a great place to have 10-20 businesses set up a table and meet prospective employees," McCotter told Life & Times.
   The job fair will be held 10a-4p, Tuesday, May 16 and feature everything from restaurants to contractors, realtors to retailers looking to connect with potential employees.
  The May date permits college students looking for seasonal employment to attend. Louisa County Public Schools Director of CTE & Workforce Development, Bo Bundrick told McCotter he would support the event by encouraging Louisa County High School students to consider attending and noted if enough showed interest, he'd support them getting out of school a bit early that day and providing a bus for transportation.
  "We never want to see our member businesses have to close again because they cannot staff a shift," McCotter said.
   The LABP consists of over 150 members and meets the third Tuesday of the month. For more information on how to participate in the Job Fair email info@visitlakeanna.org.