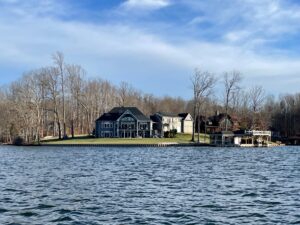 Lake Anna Real Estate Finding Balance With Promise
By Libby Sandridge
 Whew……what a ride it has been!
   After coming off of the past three years of the housing roller coaster market, home sales at Lake Anna are slowing down, along with new home construction. Low inventory has managed to keep home prices from dropping off significantly, as home buying costs remain high.
  During the past several years we saw home prices increase rapidly and now we are seeing some reductions due to the slowdown. How far home prices will dip will depend on where the mortgage rates go this year. We also hit an all-time high on a sale price last year with a property reaching a sales price of $4,750,000.00!
   Here is a glimpse of what the real estate journey has been like here at Lake Anna over the past several years.
  Home sales in 2019 reached 239 for the year, while 2020 escalated to 308, and 2021 capped out at 274. In 2022 we dropped back to pre-pandemic levels to 223 homes sold.
  Land sales peaked in 2021 with 239 lots sold for the year. That number dropped to 145 lots sold for 2022.
   Lot sales increased rapidly due to the low inventory of homes during the past three years along with the increase of multiple offers, causing homes to sell well above the list price. Buyers were disappointed in home prices along with availability, and chose to build, therefore getting exactly what they wanted.
   Looking into the future, there has been a hodge-podge of market forecasts being reported, by many economists. However, it is predicted by many bankers that the Federal Reserve will raise rates three more times this year due to persistent inflation.
  Currently at Lake Anna, there has been nine homes sold since the first of the year and we have 41 homes active on the market with 23 under contract. Out of the 41 homes available 24 of them are waterfront and price ranges from the low $700K to just over 2.6 million! We have 75 lots available on the market with 28 being waterfront. There have been 13 lots sold since the first and there are nine lots currently under contract.
   The market seems to be more balanced than the past two years, when buyers were more likely to compete with multiple offers and sales exceeding list price. With fewer homes sold in 2022 than in 2023, the market still shows promise that a profitable sale and purchase is still possible. The key is being prepared and having reasonable expectations. High home prices and high interest rates are putting pressure on buyers' affordability.
   If you are a seller you need to set a price that reflects the current market conditions at Lake Anna. If you do, you will still find that ready, willing and able buyer. Sellers should also be aware that your home will sit on the market a bit longer than the past several years.  Buyers can expect to have more leverage in regard to contingencies such as home inspections, that were basically missing the past several years.
  I like to remind everyone whether selling or buying to use a local Lake Anna realtor. This is especially true when you are an absent seller or buyer, you need a local agent that knows the lake and all the particulars about the rules and regulations of not just the lake but also each community. You never want to learn after the fact!
  Author Libby Sandridge is a long time Lake Anna realtor with Dockside Realty. You can reach her at:
540-223-0350 – LibbySandridge@comcast.net