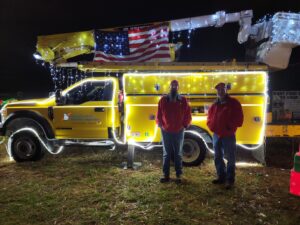 Fredericksburg, Va. — This fall, Rappahannock Electric Cooperative's (REC) The Power of Change awarded more than $94,500 in funding to support 24 local nonprofits. 
   "The generosity of our member-owners results in meaningful donations to local organizations that make a difference in our communities," said Casey Hollins, Managing Director – Communications and Public Relations. "This round of funding is making an impact in our communities through projects that assist those facing the most challenging of circumstances including those in need of food, shelter, and life-changing services."
  The Power of Change Fall 2022 recipients are: 10-7 Farms, Caroline County, received $2,500 to provide behavioral support for those expencing Post Traumatic Stress.
  The Fairy Godmother Project, Fredericksburg, received $3,000 to provide pre-made meals to families traveling to pediatric cancer treatment centers.
   Louisa County Resource Council, Louisa County, received $3,000 for its Wheels for Work project to provide emergency auto repair assistance for low-income working families.
   Louisa Downtown Development Corporation, Louisa County, received $3,200, for the Central Virginia Theatre Children's Holiday Program.
 The Rappahannock Council Against Sexual Assault, Fredericksburg, received $4,500 for the Human Trafficking Task Force to increase awareness of resources for victims.
  Emerging STARS, Spotsylvania County, received $4,893 for the organization's youth empowerment with disabilities project supplies and enrichment activities.
  Jefferson Area Board of Aging, Stafford and Spotsylvania counties, received $5,000 for the Decreasing the Digital Divide Among Older Adults programming.
  Gwyneth's Gift Foundation, Fredericksburg, received $5,000 to support the Hands Only CPR training program for the greater Fredericksburg regional area.
  The Caroline Family YMCA, Caroline County, received $5,000 to create a Red Cross Outpost for CPR and emergency first aid training courses and certification.
  The Sensory Theatre Endless Possibilities, Inc., Fredericksburg, received $5,200 for the STEP to Screen project that uses videography as therapy and teaching for people with disabilities.
The Beaverdam Food Pantry, Hanover County, received $5,280 for the Fuel Help for Volunteers project to assist delivering food to hungry families of Central Virginia.
  St. George's Episcopal Church, Fredericksburg, received $5,750 for The Table at St. George's to provide a food pantry that focuses on providing fresh produce to food insecure families.
   Fredericksburg Regional Health Council Inc., Fredericksburg, received $6,500 for the Lloyd F Moss Free Clinic – Chronic Illness Outpatient Clinic for low-income, uninsured adults.
  The Power of Change is funded by the generosity of nearly 31,000 REC member-owners who round up their electric bill or donate a set amount each month, or who make a one-time donation. Twice each year, the funds are invested back into the communities the Cooperative serves.
  Applications for the Spring 2023 The Power of Change funding are now open. Visit https://myrec.coop/power-change for more information.