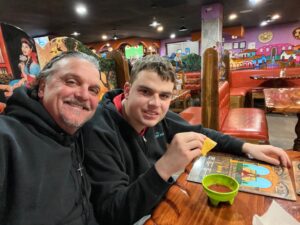 Lake Anna Reflections: Inspiration Comes From Many Places
By C.C. McCotter
 As the publisher of a local paper, I am constantly looking for photo opportunities and story leads that help us generate interesting, entertaining and inspiring stories.
  We cover the news with factual reporting. We feature intriguing personalities. We highlight events our marketing partners and friends plan. There's a lot out there to cover if you are paying attention, for sure.
   So, when we heard about a 21-year-old that wanted to do reviews of Lake Anna area restaurants I was intrigued. To be honest, restaurant reviewing isn't easy. You have to take the time to eat there and then be able to describe the experience down to fairly minute details. You get criticized by people that don't agree with your opinions. There are no free meals either, as that is a big no-no if you are reviewing any place. But we thought it was a neat idea and started to Follow the reviews.
  Ryan Carter is that 21-year-old. He's the son of Lionel (Lonnie) and Shelly Carter, owners of Lake Dream Realty and long-time LKAers.
   Ryan is autistic but he loves to review things, including amusement parts and restaurants. His dad takes him to the eatery and purchases the meals. His mom helps edit his reviews. The end result is time spent together fellowshipping over a meal and then an informative, unassuming review for others to consider.
   Ryan's story of seeing a need in the community and wanting to fill that need is not unfamiliar here. As Lake Anna continues to grow, from Peach Grove Road to Old Quarry Lane and everywhere in between, there will be other needs to fill and hopefully other folks to fill them.
   The upcoming Lake Anna Business Partnership Job Fair is way to give young people like Ryan (and really any age) the opportunity to be something here, too. On March 16, businesses and potential employees will gather at Callie Opie's Orchard and see if we can solve the lingering staffing issue that has hindered many of our businesses here.
     The LABP's scholarship fund is another example of our community coming together to help the entrepreneurs of tomorrow succeed. Funds donated by local businesses (Lake Anna Life is one) and restaurants that participated in Lake Anna Restaurant Week will be combined to offer a $2,500 scholarship to a deserving Louisa, Spotsylvania or Orange County high school senior heading off to college or a technical institute in the fall.
     The point of highlighting these examples is that in our community a few people can really make a difference.
   Think of Ryan Carter and his idea that has reached over 50,000 people via Lake Anna Life's Facebook page inspiring them to visit. Think of the LABP Directors that agreed to hold the Lake Anna Job Fair and the business that agreed to host it so area businesses can operate without fear of short staff closures. Think, too of the restaurant owners that unselfishly agreed to participate in Lake Anna Restaurant Week and donate $1 per meal to the scholarship fund to help a young person take the next step to being an LKA leader.
    Let's not forget what Jody Korman is doing to address the terrible litter problem that exists around the lake and Louisa County. Not only is she organizing clean-up efforts, but she's also actually participating in them personally and inspiring many other community members.
   I want you to think of all this positive momentum in our community the next time you want to cast a stone.
  Yes, there is community debate over the recent approval of a resort planned to be built alongside Route 208 and Mitchell Creek. Truth be told, it looks like more development projects are on the near horizon, sure to create more differences of opinion amongst our residents.  Yes, opinions on short term rentals here can easily divide a dinner table. Yes, two consecutive years of higher property assessments/taxes tends to be wearisome. The debate on no wake surfing buoys, can be too.
   Rest assured, though, we can all agree that folks like Ryan, Korman, area restaurant owners, our Lake Anna Life Media Group team, LABP Directors and many others are doing their part to make Lake Anna an amazing and highly desirable community. I encourage you to join us!