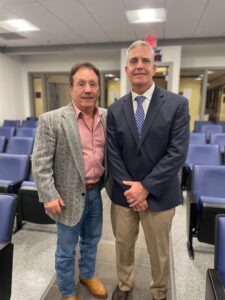 Louisa Co. Supervisors Approve Conditional Use Permit and PUD For Lake Anna Resort
By Tammy Purcell
   For years Lake Anna residents have been hearing about plans to create a hotel/resort complex on commercially zoned property across from Lake Anna Plaza fronting Rt. 208 and Mitchell Creek. The latest effort achieved a major milestone when, at its January 17 meeting the Louisa County Board of Supervisors voted 6-1 to approve the controversial rezoning that clears the way for the mixed-use project.
  During a nearly four-hour meeting, supervisors green-lighted LA Resort, LLC's request to rezone, from commercial to Planned Unit Development, 15.27 acres on the south side of Route 208 fronting Mitchell Creek. The developers plan to build an up to 96-unit residential condominium building, a 130-key hotel, restaurant, and boat slips on a forested property that, despite its prime location, hasn't been developed since the lake's construction in the early 1970s.
   Supervisors also approved a Conditional Use Permit, allowing the residential condo building to reach 80 feet high, 20 feet taller than what's permitted for multi-family residential structures in a PUD but equal to what's allowed for hotels.
  Cuckoo District Supervisor Willie Gentry was the sole board member to vote against LAR's requests.
  Neighbors and other Lake Anna residents packed the meeting to oppose the rezoning. Twenty-seven people spoke during the public hearing with all but two either explicitly opposing the proposal or expressing concerns.
Opponents reiterated issues raised at previous public meetings, arguing that the development would overwhelm local infrastructure, harm the environment, and spoil the community's rural character. They criticized the size of the proposed condo building and the noise and light pollution they fear it would bring to Mitchell Creek, wondered how the area would handle increased car and boat traffic, and said the PUD, as one critic put it, is "grossly out of character with Louisa County."
  Many community members urged supervisors to keep the property's current zoning intact, saying that they welcome hotels and restaurants, but not a high-rise residential condo building that would squeeze hundreds more people onto the lake's shore. But the groundswell of resistance didn't sway most board members.
  Before voting to support the rezoning, several supervisors said that they listened to and understood neighbors' concerns, but the rezoning made sense, in part, because of what the developers could do on the commercially-zoned property by-right, meaning without board approval.
Mike Grossman, one of the project's lead developers, told the board that if LAR didn't win approval for its PUD, his team would likely revert to their back-up plan: a 150-unit condo-hotel. He said the property, which would offer condos for sale but require them to be rented at least periodically, would include an 80-foot-tall building, a boat ramp, and resort amenities.
  Grossman framed the PUD as a better fit for the neighborhood, describing it as a "high-quality development," offering maintenance-free lakeside living combined with a hotel and restaurant that produce tax revenue and jobs. He noted that the residential condos could sell for $600 to $700 per square foot, a higher price point than the condo-hotel units, which would be cheaper and "highly-transient" because of their regular use as rentals. Grossman added that, in the PUD, the hotel would be farther from the lake and the development would generate less light and noise.
  Mineral District Supervisor Duane Adams, who represents the area, said that he didn't like the condo-hotel concept and would prefer the PUD, which requires board approval and opens the door for community input.
  "The question that it comes down to for me is what type of development goes on that 15 acres and do you as a community and do we as a board have any input," Adams said. "By right, you don't have any input. We don't have any input. With a PUD, we've had a lot of input."
  Adams pointed to several decisions the developers made, prior to and during the public rezoning process, in response to community concerns. Those include barring condo owners from renting their units for less than a seven-day period, excluding a boat ramp from the property and instead only including boathouses with mechanical lifts, and, in a last-minute revision, adding specific language to its proffers to limit light pollution.
  Specifically, the development's proffers require that the residential condo building's balconies have a depth of at least six feet and include only flush-mounted ceiling light fixtures. The proffers also bar the use of backlit signs facing the lake. Grossman said that these measures, combined with the use of dark-sky compliant lighting and other requirements, would significantly cut down on light reflecting off the lake.
  While some board members focused on the condo-hotel versus PUD framework, Jackson District Supervisor Toni Williams homed in on another issue that sparked significant debate over the last several months: what guarantees does the county have that the lucrative commercial development that LAR promises will materialize?
  When the Planning Commission considered the rezoning at its October meeting, several commissioners worried that LAR might only complete the residential building, leaving the county without the tax revenue projected from the commercial component. An economic impact study estimated that the county would net, over and above its expenses, about $205,000 per year from the development with some of that coming from lodging and meals taxes.
  The study factored in the county's potential purchase and upgrade of a privately-owned wastewater treatment plant to serve the complex and future commercial development along Route 208. LAR agreed to chip in $1 million toward the upgrade, a proffered condition of its rezoning request. Commissioners and community members said that the county's purchase and upgrade of the plant would make it more dependent on the anticipated revenue.  Supervisors agreed to buy the plant for $90,000 in a separate action Tuesday night and the county could spend between $7.5 and $11 million to improve and expand it, according to Economic Development Director Andy Wade. (See sidebar).
  To allay concerns about the PUD's commercial activity failing to come to fruition, LAR tacked on a new proffer, agreeing to post a $2 million performance bond that the county could call if an occupancy permit for the hotel isn't issued within five years of the condo building's completion. In late November, LAR also agreed to a proffer acknowledging that the county would withhold occupancy permits for the condo building until it approves site plans for the hotel and restaurant.
  Grossman said that LAR intends to build the project in one phase but acknowledged that it could take longer for a hotelier to locate there. He said the proffers and development plan should give the county confidence to green-light the PUD.
  "We believe, collectively, these incentives and actions should provide the county confidence that the commercial components of our proposal will be built in a timely manner and, if not, the confidence the county will be reimbursed for the portion of the wastewater treatment costs, which support the commercial parts of the PUD," he said.
   Williams agreed.
  "They're willing to take a $2 million punishment if they don't get a hotel vendor in a reasonable time period," he said.
Keeping with the Comp Plan
The property's relationship to the County's 2040 Comprehensive Plan also factored into supervisors' decision.
Adams and Louisa District Supervisor Eric Purcell pointed out that the property is targeted for mixed-use development in the plan and situated in one of the county's eight designated growth areas.
In response to criticism that the board is ignoring the plan's chief goal—to maintain the community's rural character—Adams pointed out that supervisors shrunk the Lake Anna Growth Area by 70 percent when updating the plan four years ago in favor of denser growth in strategic locations that generates tax revenue and protects the county from uncontrolled development.
"There is a method to that Comp Plan to put the growth in a smaller area," he said.
Purcell agreed.
"It's understood that keeping a county rural can be a very pricey endeavor from a tax perspective if you don't get some help from businesses," he said. "We have to be cognizant of where we grow and where it makes sense to grow."
Adams added that he's heard residents say that one PUD with a residential condo building on the lake's shore would open the door for more high-density development. But, he said, those fears are unfounded as the county's current zoning and vision for future growth aim to prevent it.
"This is a rezoning on a commercial piece of property. if you look at the rest of the lake on the Louisa side from (the 208 bridge) to Tim's, there is one more commercial (lakefront) lot," he said. "If this conversation was rezoning this from A-1 or A-2 or R-1 or R-2 to commercial or PUD, that wouldn't have (lasted long)."
LA Resort, LLC's PUD by the numbers
An up to 80-foot tall, 255,714-square foot residential condominium building including a minimum of 72 units and a maximum of 96 units.
An up to 80-foot tall, 131,250-square foot hotel including a minimum of 80 keys and a maximum of 130 keys. The hotel could include a rooftop restaurant.
10,200 square feet of commercial space including a restaurant/bar and ancillary retail.
Up to 62,560 square feet of overwater structure fronting Mitchell Creek including four boat houses with mechanical lifts and 129 boat slips (83 covered and 46 uncovered). The slips would accommodate condo owners and hotel and restaurant patrons. (Subject to Dominion Energy approval).