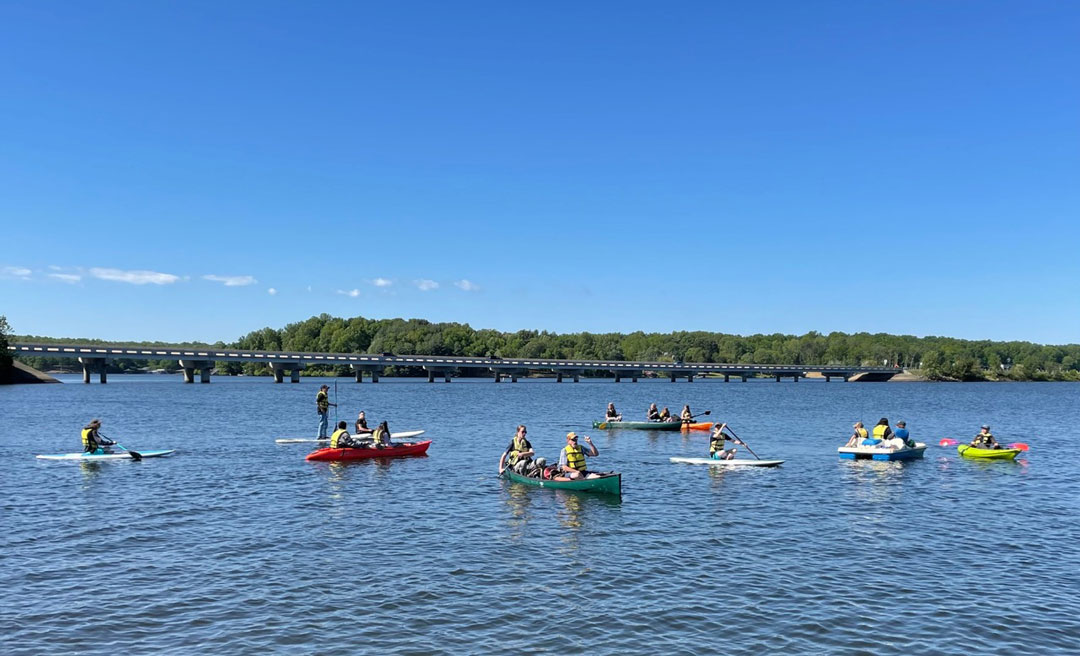 Lake Anna Water Trail
  Paddling Lake Anna is a popular activity for many residents and visitors. Kayaks, paddleboards and canoes are the most common paddlecraft seen quietly enjoying the lake from a different point of view. One local business is promoting a new way of enjoying paddlesport at the lake – the Lake Anna Water Trail.
  "For years we've been suggesting paddling routes for our visitors, mostly up to what we call Kayakers' Beach on the north side of Fishers Point at Lake Anna State Park, but more recently up to there and then back over to Lake Anna Taphouse on the Louisa side of the lake," Lake Anna Outfitters owner and publisher of Lake Anna Life, C.C.  McCotter explains. "The Water Trail is something we've been wanting to do officially for a while now."
   The first leg of the trail departs Lake Anna Outfitters at High Point Marina for the half mile paddle over to the State Park and a refreshing dip at Kayakers' Beach just above the mouth of Pigeon Run/Creek.
  The second leg can be up to another mile-and-a-half if one wants to enjoy the undeveloped coves and shoreline. Since it's public land, paddlers can pull over, swim, hike or picnic at their leisure. Bohemian Bay and Skinny Dippers Cove await at the end of this leg.
  The third leg of the trail is over to the Taphouse, no more than a mile from the second leg of the trail. Here you'll find a nice place to paddle up and rehydrate, picnic or order lunch/dinner from the menu.
  The last leg is across the lake along the Rt. 208 Bridge, which can be spectacular at sunset, and back to Lake Anna Outfitters at High Point.
  The entire Water Trail is approximately 3.25 miles and is a great way to enjoy the lake, its wildlfe and the aquatic lifestyle without a major investment of time or money.
   Maps of the Lake Anna Water Trail are available at Lake Anna Outfitters as are rental kayaks, paddleboards, pedal boats and canoes.
  Paddlecraft rentals are also available from Rocky Branch Campground (Sturgeon Creek), Sturgeon Creek Marina and Shipwreck Boat Rentals (Pamunkey Branch).