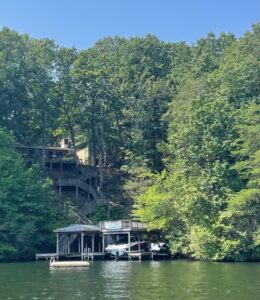 Despite the higher mortgage rates Lake Anna's real estate market remains competitive, mostly due to low inventory and demand. Unfortunately, this has created an affordability issue for many buyers.  Overall, our housing market remains weak in comparison to the past several years.    
  Currently Lake Anna real estate is in a neutral market, meaning we are no longer in a seller or a buyer's market.  Approximately 40% or more of the homes this year have sold under list price.  The average number of days on the market so far this year is 42.  However, homes that are priced according to the market are selling quickly, so if you are planning to buy, it pays to act fast. 
  Unfortunately, some sellers are still thinking we are in a seller's market which will result in the home sitting on the market longer. The first 30 days your home is on the market are the most important and pricing it correctly is crucial. 
  We currently have 17 homes that have well over 90 cumulative days on the market.  When this happens, you lose your peak marketing time and a overpriced home is one of the worst mistakes a seller can make.   
  There have been 111 homes sold at the lake, down compared to 162 sold during the same time for 2022. We have sold 52 waterfront homes and 59 lake access homes so far this year. Another worthy mention is 29 of those sales were more than one million dollars and four were over two million. The average sales price for a lake access home ranged between 400K and 500K dollars. We had one lake access home that sold for one million dollars, which is a first for the lake. 
   Land sales have also declined compared to last year. In 2022 during the same period 110 lots were sold and of those, 31 were waterfront. This year we have sold 75 lots with 23 being waterfront. 
   Builders are flourishing here at the lake. So far this year we have had 19 spec homes sold and that does not include the new ones that have been hired individually by lot owners. For those thinking of building there are several things you should not skimp on. 
  Construction quality – when selecting builders try not to compromise. You do not want substandard services that will cost you more down the road. 
  Building materials – when building the main thing is to splurge on the fundamental things and compromise on things that you can upgrade easily down the road. 
  Overall, the housing market is a hot topic everywhere you go, and Lake Anna is no different. Home prices are expected to level out as the interest rates have proven to be a challenge for many buyers.  Many sellers are also sitting on the fence because most homeowners are locked into super low mortgage rate and are choosing to hold off for rates to ease.    
  Currently, interest rates can be anywhere from 6% to 7% depending on the loan type and terms. The next Fed policy statement will be released on September 20th, and it is possible that they may choose to raise the rates again depending on the inflation data. 
  The experts are all over the board, some are hopeful and predicting them to come down by the end of 2023 while others are predicting that rates will climb higher due to inflation and the possibility of a recession.
  In closing I would like to remind you that Lake Anna is not only beautiful but a peaceful place to call home. Here at Lake Anna, we have a home to fit every lifestyle and budget ranging from cozy lake access cottages to beautiful waterfront homes.  If you are looking to buy or sell you need to contact a local full-time lake agent. The most obvious reason to hire a local agent is they know the area, secondly, they know the businesses, schools and can recommend local hangouts and restaurants. A local agent can take the stress out of the process, as they are invested in the community and connected with professionals such as lenders, appraisers, electricians, plumbers, and home inspectors. Also, a local agent being familiar with all the ins and outs of the area will be successful in negotiating your purchase for the best price possible.  So, contact a Local Lake Agent today! 
You can contact author and local realtor Libby Sandridge at libbysandridge@gmail.com