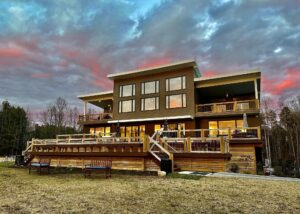 Everleigh Winery And Brewing Company Ready To Welcome LKAers
   When he wasn't seeing patients in his oncology practice, Joe Evers was enthusiastically gathering information about wine. He and his wife, Barbara, were avid wine-centric tourists and she was heavily involved in two wine clubs that featured blind tasting and food pairings.
  Now, Evers continues seeing patients but he and his wife have worked tirelessly over the past four years to create their own vineyard and winery. Everleigh Vineyards and Brewing Company inhabits 130 acres of field and forest off Rt. 33 about 12 minutes from much of the lake. The business includes nearly five acres of grapevines and an almost 4,000 sq. ft. tasting and special event facility that features soaring windows that look out on the vineyard and stunning sunsets.
   Their son, Ryan, 30, is in charge of the beer brewing and cider making and there are 12 taps that offer a variety of beverages.
   Life & Times asked Barbara why she and her husband chose their family winemaking as their family business.
  "I always wondered why Virginia wines were not featured more prominently. I decided that we could make outstanding wines if we put the research and time into the growing of the grapes, and then put the grapes in the hands of respected accomplished wine makers. We have hired consultants to assist with the grape production since before we planted the first vine. My family and I have spent countless hours in the vineyard doing everything possible to maximize the quality of the fruit. Our consultants over the years have backgrounds from France, California and Virginia, which has given me the best education possible. Many wine experts believe that the vineyard is where the wine is truly made, so do I."
   Based on a number of agrarian factors, the Evers chose Louisa as the site for the new venture.
  "Louisa offers the climate, altitude and soils that are all conducive to growing quality grapes. It is also ideally located between Richmond/Charlottesville/Fredericksburg," Evers told Life & Times.
  Wines produced at Everleigh include Cab Franc (100% varietal), Meritage (75% Cab Franc 24% petit Verdot 1% merlot), Chardonel (100% still white), a rose Chardonel/Cab Franc blend and a Champagne style (100% chardonel).
  Ryan brews the family beer on premises as well. Everything from lagers to brown ales can be found in the taps. The ciders are also crafted on site and are offered in traditional dry and flavored options.
The Evers are planning their 2023 special event calendar. One notable date will be the June Louisa County First Friday After 5.
   "We plan to do additional music and special meal events such as our first oyster roast which was held February 11," Barbara noted.
  The tasting room is newly constructed and features a modern design with ample open spaces. There are two upstairs indoor/outdoor spaces that look out over the vineyard that are available first come first serve, but can be rented individually or by the pair. There's even a baby grand piano in the tasting room and encourage talented folks to play.
This spring Everleigh will be open Friday 3-8, Saturday 12-8 and Sunday 12-7. Starting May 1 Everleigh will be open Thursday 3-8 as well.
  So what do the Evers want a visitor to say after the visit?
  "The wines, beer and cider were excellent, the staff was friendly and welcoming, the tasting room was unique and takes your breath away. I can't wait to come back."
  Barbara noted, "This business is truly a family affair. All four of our children and daughter-in-law play important roles. We love being able to see each other and support each other."