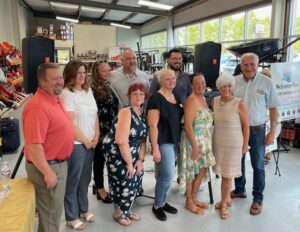 One of Lake Anna's most visible businesses has been sold. Lake Anna Tractor & Hardware has been acquired by Cardinal Home Center, which is a separate company owned by Madison Wood Products.
  Jon and Stephanie Koren made the announcement at the August 15 during the Lake Anna Business Partnership Business After Hours meeting held at Lake Anna Tractor & Hardware. The CEO of Madison Wood Products was introduced as was the new general manager.
   Cardinal Home Center, founded in 1987 operates five stores in Charlottesville, Crozet, Madison, Staunton and Waynesboro. Madison Wood was begun in 1959 and remains a family business. They maintain a 180,000 sq. ft. facility in Madison County and can treat over one million board feet of lumber per day.  
  A spokesperson for the company told Life & Times, "We are planning on bringing more product lines to the store, including lumber."
  The Koren's started Lake Anna Tractor & Hardware in 2018. The business, located on the corner of Rt. 522 and Chopping Road underwent a significant expansion this past winter to better house power equipment, hardware, a service shop and more home repair/upkeep items.
  "Jon and I are pleased the business has been acquired by another family and look forward to seeing them take it to the next level. We're not going anywhere as we have plans to develop adjoining land and construct two buildings so stay tuned," Stephanie Koren told Lake Anna Life & Times.