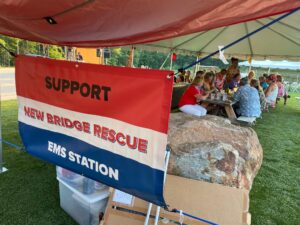 One of Lake Anna's most community supportive businesses has marked a milestone with a major announcement.
   On August 17 Mike and Roxanne Kavros, owners of Callie Opie's Orchard Restaurant and event venue celebrated the much-loved restaurant's sixth year in business. To mark the occasion, they threw a Hawaiian luau complete with a south Pacific inspired menu, Hawaiian shirts and dress, specialty drinks and live music – all part of a fundraiser for Station 8, New Bridge Fire & Rescue.
  "We are grateful for everyone's support these six years and happy to give back when we can to better our community," Mike Kavros told Life & Times.
   The couple also announced they plan on building cabins on the 25-acre property to offer visitors more overnight accommodation options.
   "We're zoned by right for a 24-room hotel, which can be a single building (hotel if you will) or 24 individual dwellings. We plan on keeping our rustic like theme, so we'll initially build two to three one-room units that will be 240-250 sq feet," Kavros explained.
  The restauranteur and community activist noted he was in the approval process with Louisa County and related agencies and hoped to have the first few units available this fall.
   When asked why he decided to expand Kavros said, "Knowing there was a demand for weddings in a rustic setting we started planning in 2016 so the venue could be a 'destination wedding' site.  When not being used by wedding parties the units will be available to the general public primarily for short term rental (overnight stay)."
  The final design of the units has not yet been settled with Kavros considering a number of options.
  "I'm looking at multiple options (building from scratch, convert shipping containers, bring in pre-built tiny home, yurts, etc.) so it could be an eclectic collection."
    Kavros plans on keeping amenities in the units basic such as a shower, toilet, sink, bed and likely a small refrigerator and coffee machines.