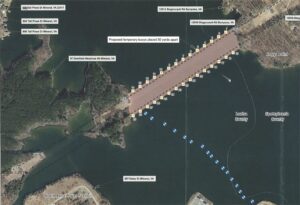 Dominion Energy is going to be working on the power lines crossing the lake from Boggs Point (Spotsy) over to the power plant during the month of September. There will be times when no boats will be permitted in the construction area – approximately nine, 15-minute closures. 
  To effectively mark the area Dominion Energy will use temporary water markers in association with the Lake Anna Electric Transmission Reconductor Project. The project is necessary to replace conductor on an existing 500 kilovolt (kV) electric transmission line crossing Lake Anna. Construction will be performed within an existing right of way from the Boggs Point peninsula within Spotsylvania County (38.072080, -77.779680) to areas adjacent to the North Anna Power Station in Louisa County (38.066443, -77.798388). 
   For the safety of boaters, the area of the lake near the transmission line will be closed intermittently for boat traffic during certain activities of this project, currently scheduled to begin in September and last approximately 4 weeks (weather permitting). 
  It is estimated there will be a total of nine, 15-minute closures between Sept. 12 to Sept. 20, 2023, from 7:00 a.m. to 7:00 p.m. During these times, boat traffic will not be permitted underneath the transmission lines while wire pulling operations take place. 
  The Construction Zone will consist of the existing right of way width plus an additional 50-yard buffer on either side. Anchoring and loitering within the Construction Zone will also be discouraged during construction activities. 
  Dominion Energy proposes to place the temporary buoys one week prior to construction on Sept. 5, 2023 (weather permitting), to provide early notification and allow the public to prepare. The temporary buoys will be removed on Sept. 20, 2023 (weather permitting) or upon project completion.