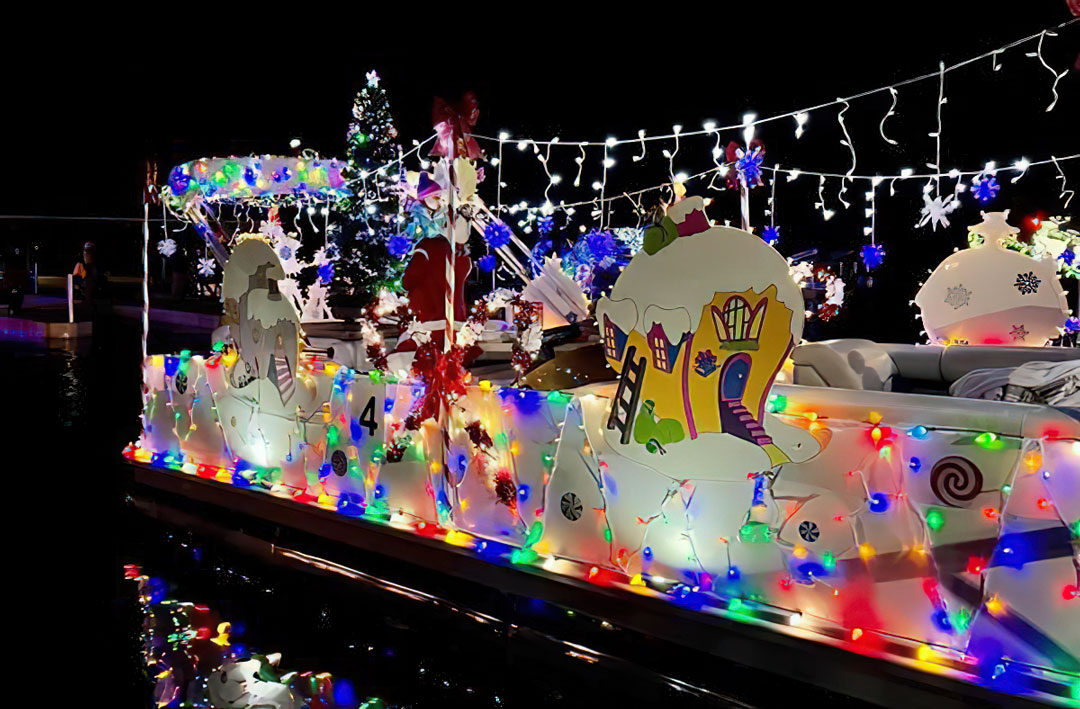 Third Annual Lake Anna Lighted Boat Parade Draws Thousands To Spectacular Aquatic Display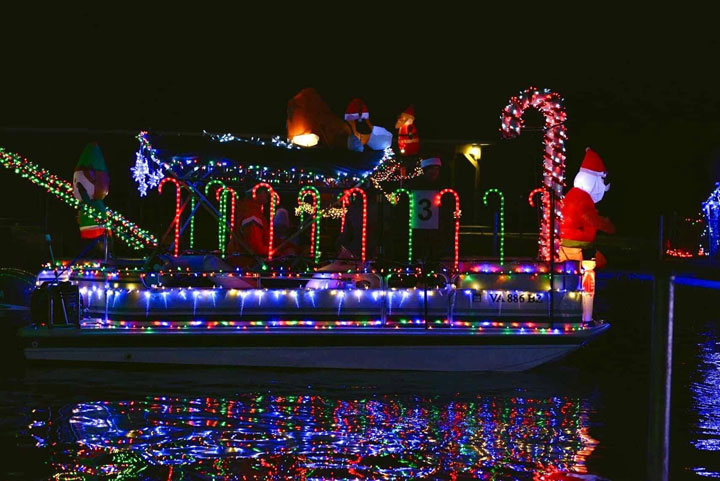 The 2021 Lake Anna Business Partnership Lighted Boat Parade was one for the record books! Held annually on the first Saturday in December, the event started three years ago when LABP organizers decided to give what worked at many other waterfront communities a try at the lake. This year's event was held, Saturday, December 4.
Mark Smith was serving as president of LABP when the first Lighted Boat Parade was held.
"There were eight boats that departed from Lake Anna Taphouse and ended up at Tim's. I can remember the deck and grounds at Tim's being absolutely packed and it was darn near impossible to get a table anywhere at a lake restaurant for the next two hours! We realized we had something here and each year we've tried to make it better."
The 2021 event was coordinated by LABP's Randy Thomas and LABP president C.C. McCotter, along with major operational support by Gary Jacobs of TowBoat US Lake Anna, the Louisa County Sheriff's Office, the Spotsylvania County Sheriff's Office and volunteers like Mark Strauss that helped coordinate boat parking.
"We worked hard to create an event that included more viewing opportunities for our visitors and residents this past year. We had two staring points; Tim's and The Cove, and a promenade of all of the boats in the parade in front of Lake Anna State Park and the 208 bridge marinas," Thomas told Life & Times.
Nine boats started from Tim's at Lake Anna and four boats started from The Cove at LKA. All 13 met up at The Splits and headed down lake together. The weather was 50 degrees and calm.
The crowds at the viewing sites were robust including over 80 cars at the state park, 30+ at the marinas and hundreds at Lake Anna Taphouse. Huge cheers went up when the parade made the final turn to the docks at Lake Anna Island and the scene was festive as the judges (Jack Snyder, Casey Sprouse, and Marcus Hofman) decided on the top three entries.
Making a decision with all of the elaborately decorated boat entries was no easy task! In the end the Charlie Brown's Christmas entry took first (Darryl and Vanessa Burnette), followed by A Christmas Story (Steve O, KT Britts and Crew) and Candy Cane (Joe "Tocky" Lawrence). The grand prize winner received a $75 gift card to Lake Anna Taphouse, first runner up received a $50 gift card to Tim's at Lake Anna and second runner up received a $25 gift card to The Cove.
During the event, Santa and Mrs. Claus were at Lake Anna Taphouse to greet children. The REC Bucket Truck was on hand and decorated spectacularly with representatives handing out candy to youngsters. Several vendors were also selling apparel and decorative gift items.
"This event could not have happened without the hard work of Randy Thomas and all of our volunteers behind the scenes. We had seven people registering boats, three drone pilots, Lake Anna Photography, Louisa County Sheriff's Office, Spotsylvania County Sheriff's Office (Virginia), TowBoatUS Lake Anna, Rappahannock Electric Cooperative and three judges," noted LABP Marketing Director Lindsey McClellan after the event.
The 2022 event will again be held the first Saturday in December and LABP is encouraging local businesses to enter boats.